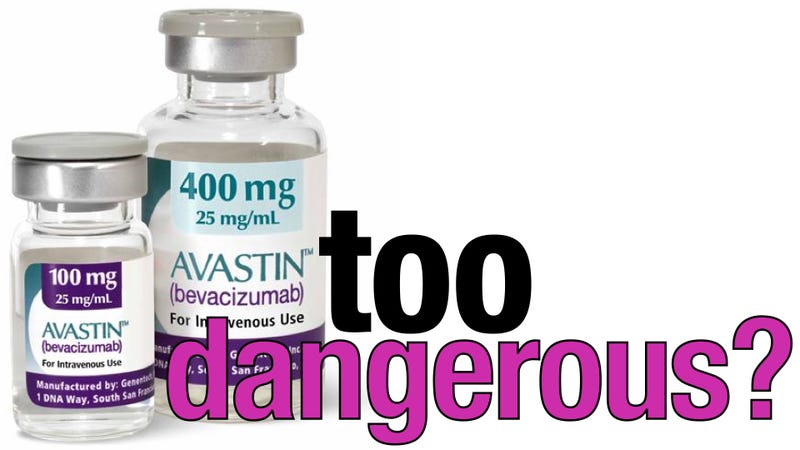 The Food and Drug Administration declared this morning that the blockbuster pharmaceutical Avastin — one of the world's best-selling cancer drugs — should no longer be prescribed for the treatment of breast cancer, claiming that the drug has proven to be neither safe nor effective in treating the disease. But is it the right decision?
The drug was first approved back in 2008 under the FDA's accelerated approval program, which allows a drug to be prescribed based on data that would, under normal circumstances, be insufficient to earn it full approval. Since then, followup clinical trials have been conducted which — according to FDA commissioner Margaret Hamburg — have shown that the drug's negative effects actually outweigh its treatment potential.
"This was a difficult decision," said Hamburg in an FDA news release issued this morning. "FDA recognizes how hard it is for patients and their families to cope with metastatic breast cancer and how great a need there is for more effective treatments. But patients must have confidence that the drugs they take are both safe and effective for their intended use." Hamburg Continues:
After reviewing the available studies it is clear that women who take Avastin for metastatic breast cancer risk potentially life-threatening side effects without proof that the use of Avastin will provide a benefit, in terms of delay in tumor growth, that would justify those risks. Nor is there evidence that use of Avastin will either help them live longer or improve their quality of life.
It's unsettling to think that doctors spent three years prescribing an ineffective drug whose side effects include bleeding and hemorrhaging, heart failure, and developing wounds in the nose, stomach and intestines. But that's the nature of the beast when it comes to an accelerated approval program. The fact remains that Avastin has been proven to be effective in numerous other cancers, and that pushing its early approval in 2008 was likely a good judgement call.
But the whole point of an accelerated approval program is that the drug continue to be evaluated following its provisional clearance. If the drug later fails to live up to the standards it should, its approval simply has to be revoked; as the New York Times' Andrew Pollack aptly notes: the FDA has "pledged to make scientific decisions on the basis of science" — as it rightly should.
But here's where things get tricky, and why the call to revoke Avastin's approval has surely been a difficult one to make.
Desperate breast cancer patients have been pleading with the FDA for months to uphold its approval of Avastin, claiming that the drug has been an indispensable component of their cancer treatment, in spite of what clinical trials may show. According to the New York Times:
Despite the potential side effects from Avastin, metastatic breast cancer has only one — death," said cancer patient Priscilla Howard at a hearing held at the FDA campus back in June. Howard claimed that Avastin was instrumental in controlling her cancer for 32 months, and told the committee presiding over the hearing that she wanted "every available weapon in [her] arsenal as [she fights] this devastating disease.
And Howard is not alone. Countless breast cancer patients have come forward to claim that the drug has played an important role in keeping them alive. And here's the thing: they may actually be right.
Avastin targets a process known as angiogenesis, the growth of new blood vessels from preexisting vasculature. Angiogenesis is a hallmark of cancer progression — as a tumor grows and becomes malignant, angiogenesis typically ramps up to continue supplying the tumor with blood, oxygen, and nutrients. Given Avastin's effectiveness in treating colorecal, lung, kidney, and brain cancers, nobody would be surprised if it was soon shown that Avastin is, in fact, effective in treating certain forms of breast cancer — it's just that current clinical trials simply haven't indicated as much.
The FDA even recognizes this possibility in its press release, wherein commissioner Hamburg encourages Genentech (the drug's sponsor) to "consider additional studies to identify if there are select subgroups of women suffering from breast cancer who might benefit from this drug."
In the meantime, Avastin will retain its approval for the treatment of colon, lung, kidney, and brain cancers, so doctors will still be able to prescribe it to patients off-label. What's unclear at this point is whether insurance companies will continue paying for the drug, which otherwise runs close to $90,000/year.
I don't envy the FDA for having to make this judgement call — I just hope they've made the right one.
[Via US Food and Drug Administration]
Top image via