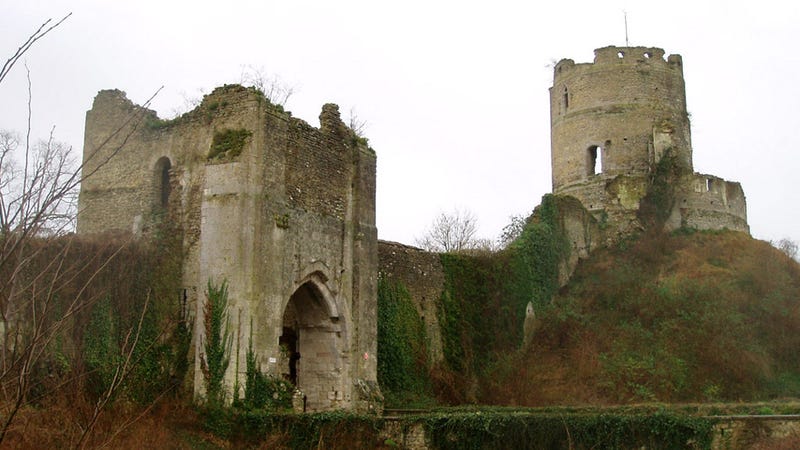 Okay, sure — this run down castle in France doesn't look like much. But just think, for a mere $680,000 it could be all yours! ALL YOURS!
Located in Normandy, France, it's an Anglo-Norman castle that was on the front lines in the wars between England and France during the Middle Ages.
And now it's for sale. Yes, Château-sur-Epte Castle could use some touch-ups, but as real estate agent Patrice Besse points out, it's got some real potential:
In terms of restoration, enlightened enthusiasts will find more than enough to assuage their passion especially as the proximity to Paris and the possibility of renovating the most recent house relatively quickly will enable them to live on site. Grants and tax deductions linked to the historic monument classification should make it possible to revive these admirable walls, stood in a magnificent, peaceful setting.
Jeez, looking at Besse's website, there's a bunch of castles for sale. Who knew? But none appear to be quite as old as this one.
Medievalists.net describes the history of the castle:
King William II began building Château-sur-Epte Castle in 1097 in an area known as the Vexin. The castle controlled a portion of the border between the Anglo-Norman Kingdom and France. In July 1119, French king Louis VI laid siege to the castle during his conflict with Henry I, but had to withdraw when one of his own castle's was threatened by Henry's forces.

King Henry II reinforced the castle in the latter half of the twelfth-century. It saw action again in the Hundred Years War, and was captured by English forces in 1437. After the Middle Ages the importance of the castle declined and in 1647 it was partially dismantled. It has since become the site to a farm, and during the seventeenth and eighteenth centuries barn and houses were built around the former courtyard.
[Via Medievalists.net; Image: Patrice Besse]