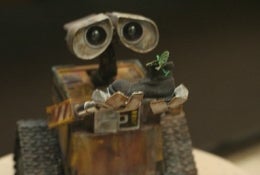 Everyone expected Pixar's Wall-E to do well at the box office, but very few expected there to be talk of a spin-off project less than a month after the movie's release. Not that the spin-off being discussed is something that anyone could've seen coming... unless they were paying attention to Broadway forty years ago. Find out about the unforeseen result of Wall-E's success under the jump.
According to Variety, the movie's use of two songs from Jerry Herman's musical Hello, Dolly! - "Put On Your Sunday Clothes" and "It Only Takes A Moment" - have gotten people talking about putting on the show again:
Herman says there's been interest in a new "Dolly!" for the past several years, with the Nederlander Org producing, but now the release of "Wall-E" has unexpectedly amplified the buzz. "The movie will only make it more vital, more of an event, and I think a lot of kids would come and see where those songs came from," says the composer.
While Herman mentions some dream casting, I think he's missing the most obvious way to bring the show to an eager audience: Get Pixar to do an all-robot version using the Wall-E cast. It'd be Hairspray meets WD-40!
'Wall-E' says 'Hello, Dolly' [Variety]