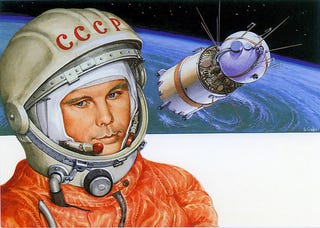 Every year the NASA Ames Research Center in Mountain View, CA, plays host to a Yuri's Night festival, which celebrates the journey of Russian cosmonaut Yuri Gagarin on April 12, 1961. This year's event, April 9-10, still needs volunteers!
April 9 will be a special free day for educators and students, so if you want to help young people learn about outer space, you should come out. Bring a kid, teach a kid, or just be a kid - there will be exhibits, presentations from NASA scientists, hands-on demonstrations, art, and music. Check out the lineup! When was the last time you saw astrophysicists on the same bill with Les Claypool and Common?
Find out how you can volunteer or participate in the Mountain View event via their Yuri's Night website.
Or, find a Yuri's Night festival in your area! There are over 100 around the world. (Psst: It's still not too late to organize one, too.)