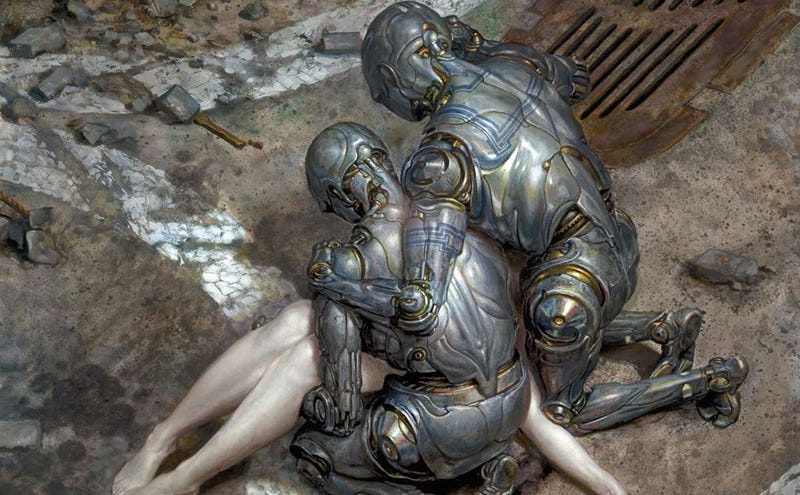 There's some damn good reading over at Popular Science right now—they've collected ten stories by some of science fiction's best writers, imagining possible futures.
PopSci's "Dispatches From the Future" includes stories by Will McIntosh, N.K. Jemisin, Karen Lord, Kameron Hurley, Seanan McGuire, James S.A. Corey, Andy Weir, Genevieve Valentine, Mary Robinette Kowal and Kim Stanley Robinson. And it's some can't-miss writing. For example, here's how Hurley's "The Improbable War" begins:
The wall was made from the faces of the dead. Their souls rested deep inside it, powering the great probability engine at its core. It started as a war memorial, but the technology used to capture these souls had turned the wall into something else: a sentient consciousness that could make even the most unlikely outcome possible. No one could predict what it would do; one could only ask for its aid.

Now 4 million soldiers in gleaming obsidian suits stood on top of it, facing an army 10 times their number. First Officer Khiv stood with them as the faces of the dead in the wall cried beneath her.

"How can we fight?" the generals had asked Khiv when their old enemies had risen up from the north. "We've given up hierarchies, hate, and violence. Going to war will destroy all we've built."

Khiv told them, "We will fight them with love."
You can read the rest of Hurley's story here, and read the whole collection here.
And while we're recommending brand new collections of science and science fiction by some of the genre's finest, Matter just published a collection of "climate futures" stories and articles, with pieces by Margaret Atwood, Paolo Bacigalupi, Choire Sicha, Tim Maughan, Bruce Sterling, Gareth L. Powell and Naomi Alderman (plus a short short by yours truly.)
Top image: Illustration for "Hearts that Beat, Mechanical and Cold" by Seanan McGuire, art by Donato Giancola.