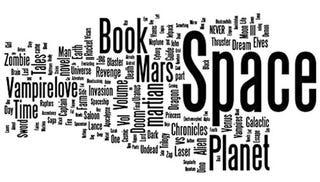 This tag cloud, depicting all the words that go into the worst science-fiction book titles, is a thing of absolute beauty. Orbit Books created it out of the 350 submissions for its "worst cover ever" drive. And the finalists are...
According to Orbit, here are the five titles from which the absolute worst will be chosen:

The Thing with the Glass Buttock
Rise of the Fallen, Book Seven, The Pre-Antepenultimate Battle
A Stain Upon The Vastness
Across a Trembling Sea the Cyborg Fairies Dance
An Old Dragon, A Dead Witch, and a Fat Guy: The Third Book of Stories that Go Nowhere.
I really hope they don't screw up the Old Dragon, Dead Witch and Fat Guy book — that was one of my favorite series growing up. The winner will go on to have a stunningly terrible cover created for it, and we can't wait to see the end result. Click the link to vote for your favorite. [Orbit Books]