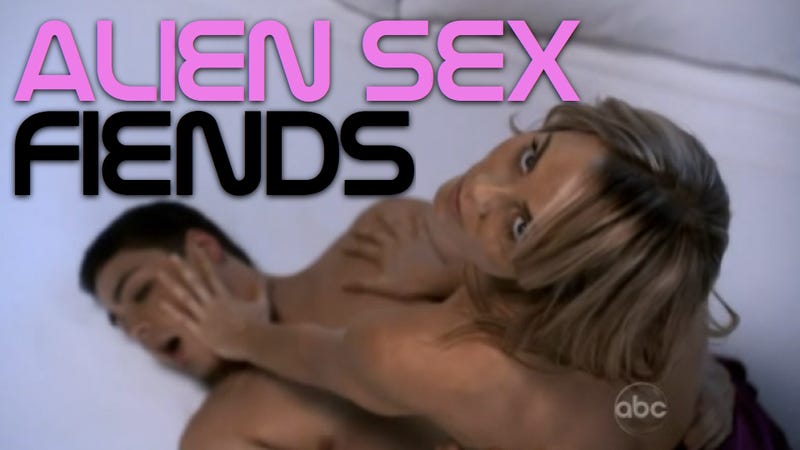 As I watched the season finale and, most likely, series finale of V, I was once again struck by how brutally, off-the-charts insane this show is. Incest-laced breeding programs and mother/daughter/grandmother sexual voyeurism and naked torture and psychic drugs and hybrid babies . . . I'm going to miss everything that happened on Anna's V ship of alien depravity. What I'm not going to miss is everything that happened back on Earth.
The episode "Mother's Day," which aired Tuesday night, was among the weirdest tales of alien sexual perversity we've seen yet. Spoilers ahead!
This is how you kill your mother, you stupid bitch
One of the great, campy joys of watching V has always been the dynamic between Queen Anna, her imprisoned mother Diana, and her rebellious daughter Lisa. We've seen some fantastically bitchy exchanges between Diana and Anna, who clearly has a serious Mommy Complex - she wants her mother to approve of her, and yet wants to kill her at the same time.
In last night's episode the multi-generational arc came to a penetrative and tentacular conclusion, when Diana tried to take over the ship in Anna's absence. "Your queen has returned!" she exults, and for some reason the whole ship turns out to cheer - only to watch as Anna gives her mom the old tentacle stab! (See clip.) Anna and her crew somehow mange to walk along the entire catwalk to the stage without Diana or the audience noticing, and then that's it for Diana's little plan.
Lisa has already blown her chance to kill her mother earlier in the episode, when the Fifth Column staged her kidnapping and Anna improbably took the bait, exiting the ship to personally get Lisa. Though Lisa's got the gun ready to fire, Anna cries and says she's realized that human emotions are great and that she and Lisa should make out and have a threesome with Tyler instead of always fighting. So Lisa puts the gun down, and lo and behold the threesome doesn't happen!
Instead she gets to hear the MOST AWESOME bitchy line ever: "That is how you kill your mother." So true! Lisa can't do anything right - not even kill her mom! The cycle of maternal disapproval continues in a moment that would make Joan Crawford proud.
And back to the breeding plan!
You may not be aware of this, but one of my preoccupations throughout the V series is to understand - scientifically, or hell even pseudoscientifically - how the V reproductive system works. Last season we saw Anna hump and eat some poor guy, then lay about a billion eggs which were then torched by Erica. And we've seen that Lisa is supposed to be Anna's breeding stock. Nobody else seems to have kids other than the Queens, other than Ryan, whose daughter Amy now believes she's Anna's daughter. And now it turns out that Anna had an extra "queen egg" in storage - where did it come from? Is it her egg or just some random one? Anyway, that's the completely incomprehensible back story which has thankfully allowed us to see some of the most perverse, freaktastic sexual relationships on television.
Take, for example, Anna's psychotic relationship with Lisa. Basically Lisa is the center of Anna's breeding program, and Anna has taken every opportunity to hook Lisa up with genetically appropriate guys (Erica's son Tyler being Choice #1) and then WATCH HER HAVING SEX WITH THEM via hidden cam. I love that part of mother-daughter relationships on V involves creating a live porn feed of you having sex with (and then eating) the man of your mother's choice. Anyway, things get even MORE bizarre in this episode, after the backup queen egg hatches.
So we see the egg hatch, and a giant insect/lizard thing comes out, which Anna orders to be covered in a skin that looks just like Lisa's. While the disgraced Lisa sits in Diana's old prison, she'll have to watch the live porn feed of Evil Lisa having sex with Tyler. Seriously, this clip is one of the most deranged things I've ever seen. I love when Evil Lisa looks up at the camera while Lame Lisa watches and sort of pants sadly.
Meanwhile, since it's the last episode ever, why not introduce new characters and an entire preposterous underground organization?
So it turns out that Erica's partner and supervisor at the FBI are part of a secret, (literally) underground organization called Project Ares. They've been spying on her, but it was only JUST NOW that they figured out she's in the Fifth Column and "knows enough" to join them. Based on the fact that she finally calls Tyler and spills her guts on the phone. Really? That was their first hint? Not her constant talking about their plans in her house, or her energetic humping of Hobbes in between laying out plans to kill Anna?
Anyway, so they kidnap her and take her a mile beneath Manhattan (where all self-respecting secret organizations are located - screw Washington). Then she's ushered into the facility, and the new character whose name I am not bothering to learn says he's in charge and describes Project Ares as "a cabal of high ranking military and government leaders." Who calls their own organization a cabal??? Shouldn't it be like "coalition" or "special interest group" or something? Hell, I'd settle for a UN subcommittee. These "cabal" guys are going to replace the Fifth Column?
Bliss and blood and tentacle death
I guess there's one good thing about the Cabal - they're so far underground that they're immune to bliss! I guess bliss particles can't penetrate dirt and the New York City sewage system. The best part of the last episode of V was that it didn't stop hurling the madness straight into your bleeding eyeballs. Anna decides that her new tactic with humanity will be emotional manipulation (basically Jewish Guilt Fascism, which is probably the scariest form of government ever). She'll use human emotion, instead of extracting it.
Step one? Getting the humans addicted to her bliss so that they'll feel extra guilty when they fail to win her approval. But unfortunately making humans feel her bliss causes her eyes to bleed in awesome True Blood style. But it doesn't matter - she's watched Evil Lisa lap up Tyler's sperm and blood, so a new generation is guaranteed. She's willing to give her life to spread the bliss to humans. That's right - she would DIE to make you people happy! DIE! But don't feel like you OWE her anything. You don't have to come home for Seder dinner if you don't want. Even though she's DYING to make you happy with her nice alien brisket, carved from the thighs of the live aboards.
So Anna puts on a shiny white robe and prepares to bleed her bliss all over her ungrateful children. But luckily, Amy has been coming into her own power. First, she strangles Ryan to death with her lizard tentacle, taunting him about how he "abandoned" her. You tell him, Amy! And then with daddy dead, she races to mommy's aid. Anna's eyes are streaming with blood, but Amy says, "I can do it." She steps into the bliss-sending light blob, does the "you feel peace" chant, and suddenly everybody on Earth is staring into the sky and having soulgasms. Even Father Jack!
Anna finally has a daughter who isn't useless! As I watched the screen fade to bliss, I felt a genuine pang of sadness. I'm really going to miss the Jewish Guilt Fascist Matriarchy and all their sex tapes. Plus the tentacles and teeth and the shiny naked torture machine! Can we maybe have a spinoff that's sort of like the Love Boat with Anna and her daughters zooming around enslaving men and starting breeding projects all over the galaxy? I'm ready to say goodbye to the Cabal and the humans if I can just watch the soap opera of Anna's brood unfold for eternity.
Sadly, I'm afraid there will be no next season. Instead, if you want to imagine what might have happened to Anna and her daughters, you'll have to watch this.