We've gotten so used to seeing our maps loaded with satellite imagery, that it doesn't seem so remarkable. But what if you could see not just a mapped area in its present, but also look back through the years, at what it used to be?
Google Street View has been building up a caché of images in the places they've mapped over the last 8 years. Now, they've combined those into a new timelapse feature, that will let you look through stored images of areas as they used to appear on Street View.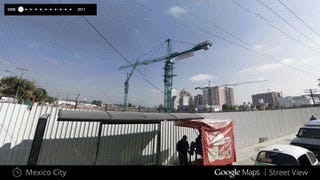 It's a new feature with some interesting applications. For instance, it can be used to watch things being built up, like this look at the Soumaya Museum in Mexico being constructed over a year. But it also can be used to see the impact of traumatic weather phenomena, like the destruction caused by New Zealand's huge earthquake this winter, as seen above in the shots taken four years apart .
You could even use it to look at more subtle, local transformations, like what businesses in a neighborhood thrive and which ones falter or to look at the changes (or perhaps the lack of them) in your block.
Images: Google