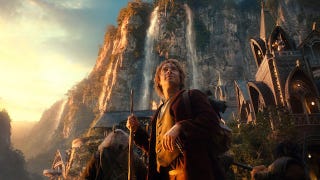 Rumors around the Infotainment Supernetway indicate that Universal is looking into adding a Lord of the Rings/Hobbit-inspired section to their Universal Studios theme parks, which would instantly be the new nerdiest place on Earth. Supposedly talks are far enough along that the Tolkien Estate people have already talked with J.K. Rowling to see how she felt Universal treated Harry Potter in making The Wizarding World of Harry Potter, and she gave them a big thumbs up.
Seeing as the Tolkien Estate technically approved the Denny's Hobbit menu, I can't imagine them saying "no" to this deal, assuming it's true. So I figure it'd be better to spend my time trying to come up with ideas for the park.
• Wack-a-Hobbit
• The One Ring Toss
• The Forest River Barrel Flume
ª The Two Towers Drop
• YOU SHALL NOT PASS!!! ...if you are under four feet tall, as you are too short for this ride
• The Bumper Cars of Moria
• Tilt-a-Wormtongue
• Gollum's Tunnel of Love
• "One does not simply walk into Mordor! The line starts here."
I'll take cash or check, Universal! Just email me!
[Via /Film]