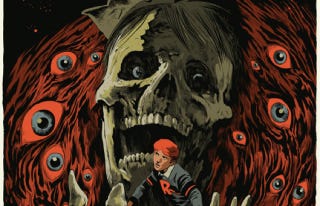 This weekend marks the first ever MondoCon, and to celebrate we are giving you all an exclusive look at one of the many spectacular works of art that will be on display and on sale in Austin. Behold Francesco Francavilla's Afterlife with Archie work.
Afterlife With Archie

Artist: Francesco Francavilla

24" x 36"

Edition of 275
Obviously this poster will be for sale at MondoCon, but along with things to buy, there will also be plenty of panels worth checking out. We're particularly excited about the Designing Movies Panel with panelists Geof Darrow, Jock, Mike Mignola, Alex Pardee, William Stout and Bernie Wrightson. Here's the official synopsis from MondoCon along with a bit o' art from William Stout:
It could be as small as a weapon or as big as an entire world, but each part of a film is designed by an artist. Who does that? How are the creatures, ships and landscapes of our shared dreams created? MondoCon sits down with six artists who have given form to some of the most iconic imagery in film. They will share stories and art, including pieces that have never been released publicly from the design phase on films like Raiders of the Lost Ark, Ghostbusters, The Matrix, Blade 2, Dredd 3D, Return of the Living Dead and more.
For more information, head to MondoCon!