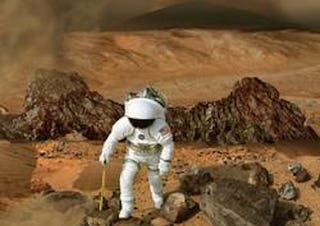 Unsettling quick-take tales of criminally-inclined clones, a corporation's attempt to bring time travel to the masses, and the very first Martian settler (arriving on a planet that may be just a little less uninhabited than we think) all await you inside.
You all brought more than 500 very short stories in response to our call today, some that made us think, some that spurred the imagination, and some that just plain unnerved us (in the best possible way).
Here are a few of our favorites:
Time Travel, Inc.: Make History, Today!
"First on Mars!" *Tap on shoulder
"Judge, John killed her," Testified Siri.
Experiment code names: Adam and Eve.
Upload error, conciousness will be deleted.
Caught cold. Rather... IT caught me...
Fly swatters never worked on BUGZ©.
"That's one small step on man..."
"We come in peace," they lied.
"R.I.P., Universe," she said to nobody.
"I'm innocent..." — "But your clone wasn't!!""
Image: Artist's concept of astronaut on Mars / NASA-JPL