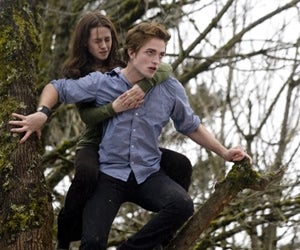 You've read the novels, you've seen the movies, but are you ready for Twilight: The Documentary? Here's hoping, because there's one on the way... but it's not about the origin of the books or the movies. It's about the setting.
Late Friday, Summit - the studio behind the Twilight movies - announced the acquisition of the documentary Twilight In Forks: The Saga Of The Real Town, a documentary about the real-life town that's the setting for Stephenie Meyer's vampire series. According to Summit,
the feature chronicles for Twilight fans the story behind Forks, Washington, which serves as the primary setting for the popular Twilight books and films. Additionally, the documentary features untold tales of Forks' unique history, mysticism and culture... Twilight In Forks offers a tantalizing mix of real-world Forks and the fantasy that makes the Twilight saga so irresistible. Fans will get to hear from the real people living their lives in the town, including: the Chief of Police, the Forks Outfitters' employee who gets mistaken for the franchise's leading lady Bella, and the vampire transplant who plays the real-life role of Alice. They'll also visit Forks High School, hear self-described Jacob's grandfather tell the legend of how the Quileutes descended from wolves, and see many more of the people and places of Forks.
Summit plans to release the movie on DVD at the same time as the DVD release of The Twilight Saga: New Moon, in the hope that the excitement over the second movie in the series will magically bring fans to purchasing a documentary about the history of a town in the Northwest of the US.
There's Not Enough 'Twilight' Crap Already [Deadline Hollywood]