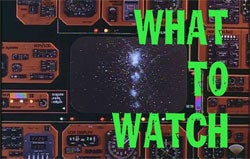 These days, the networks are bending over backwards to promote their shows online — and not just with crappy Flash games and viral-marketing mysteries. We have new promo clips for this week's episodes of Lost, Sarah Connor, Kyle XY and Jericho. You can get a pretty good flavor of which shows will be exciting (Jericho) and which will be kind of painful (Sarah Connor, sadly.)
Monday, there's a new Kyle XY on ABC Family at 8 PM. Kyle starts suffering mental problems. This show is a weird blend of Seventh Heaven and Jake 2.0, among other things. Sometimes, the treacly moralizing is almost unbearable, but other times, it's actually sort of creepy and fascinating in its portrayal of a teenager with aspergers and amazing powers. Here's a clip from tonight's episode:
And at 9 PM, there's a new Terminator: The Sarah Connor Chronicles. Summer Glau does ballet! We have more questions about whether Glau's Terminator, named Cameron, can be trusted. (I personally don't trust any Terminator who has a name. But that's just me.) Here are three clips from the episode, which show Sarah Connor freaking out and Summer dancing like a cat:
And at 1:40 and 9:45 PM, Encore has Kevin Costner's slow-as-snail-mail post-apocalyptic drama The Postman.
Tuesday at 10 PM, there's a new Jericho on CBS. Those military contractors who nearly killed half the town in season one are back, and now they're in charge. We saw this episode at Wondercon, and it totally ruled. Here's a clip:
Also, Encore has Steel, the second worst scifi movie starring Shaquille O'Neil, at 4:40 PM.
Wednesday, there's a new UFO Hunters on the History Channel, at 10 PM. With a title like "Military Vs. UFOs," how can you lose? (My money is actually on the UFOs. But it could be a near thing.)
Thursday, there's Lost, on ABC at 9 PM. Desmond is on the chopper, flying to the freighter, but things don't go quite as smoothly as he might have hoped. Here are a couple of clips:
And as far as movies go, the Sci Fi Channel has The Arrival at 7 PM, starring Charlie Sheen and Ron Silver.
Friday there's a new Stargate: Atlantis on Sci Fi at 10. The team comes across a village whose leader has the ability to protect against Wraith attacks. And here are some promo pics:

In movies, Encore has Independence Day at 9:20 AM. At 1 PM, AMC has Enemy Mine, the classic wartime bonding movie with Dennis Quaid and Louis Gossett Jr. And AMC has back-to-back Species and The Matrix, starting at 6.
Saturday has a new Torchwood, at 6 and 9 on BBC America. A certain former sidekick from Doctor Who turns up, except that she's now ten times more kick-ass than before. Here's our recap of that episode and one other, complete with a clip.
And in movies, ABC Family has Sky High, the superhero comedy, at 2:30 PM. Sci Fi has Pitch Black at 6:30 and Species: The Awakening at 11.
Sunday is once again a bleak no-person's-land of television, in which you are left to fend for yourself.