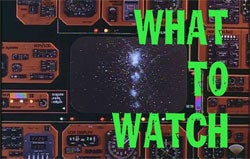 Barring a miracle, this week sees the last ever episode of Jericho, the nuked-America show that grew into a masterpiece of paranoia. (Maybe the Sci Fi Channel will discover some extra money laying around that it hasn't spent on Ghost Hunters.) Also this week, Clark takes another huge step towards his super-destiny on Smallville. And there are two mini-documentaries about Battlestar Galactica. Click through for full listings, including preview clips.
Tonight is pretty empty, now that Sarah Connor, Kyle XY, Heroes and Chuck are all gone until fall. However, CBS has a new episode of nerd-com The Big Bang Theory at 8 PM. And Fox has a new New Amsterdam at 9 PM. Our immortal-ish detective investigates the death of a homeless man, and remembers joining a 12-step program in 1964.
Tuesday has the final episode of Jericho on CBS at 10, with things building to a (slightly contrived) climax. Jake and Hawkins make their way to Cheyenne to try and avert another nuclear holocaust. This show has grown from a slightly clunky soap opera to an irresistible thriller with a very science-fictional critique of a future corporate-dominated dystopia. Even if you haven't watched every episode lately, you should still catch the action-movie conclusion, which should be pretty easy to follow. Here's the first few minutes, to get you started. (Sorry about the streakiness and jerkiness, they were in the source video.)
Also on Tuesday, the History Channel has two repeats of The Universe at 8 and 9, dealing with unexplained mysteries and the rings of Saturn. And USA has K-PAX at 2 PM. Is Kevin Spacey an alien or a mental patient? Can't he be both? And Encore has Alien 3 at 3:05.
Wednesday sees a new Futureweapons on the Discovery Channel at 8 PM. This is actually the second episode to deal with Israel, and this time around we get to know the embattled country's missile shield, known as "Iron Fist." (But there's no weapon system called "Power Man," for some reason.)
And then at 10 PM, there's a new UFO Hunters on the History Channel, dealing with "UFO Vortexes." Similar to last week's focus on UFO Gateways, this is all about areas of the planet that seem to lend themselves to mysterious activity... like the Bermuda Triangle. And an astrophysicist suggests interdimensional travel using these vortexes (vortices?) may be "entirely possible" under Einstein's Theory of Relativity. It's pure science!
And the Sci Fi Channel has Sean Connery's classic Meteor at 3:00 AM Thursday morning.
Thursday's Smallville sees Clark finally learning how to fly, in preparation for his battle with Brainiac. And there's some kind of key thingy that leads to all sorts of Kryptonian secrets, and the wrong people have it. Here's the trailer:
Also, if you missed the acclaimed TV movie Rock Monster on the Sci Fi Channel this past weekend, you have another chance to catch it this Thursday at 9 PM. It's about a student, visiting Eastern Europe, who pulls a sword out of a stone — and then the stone goes on a murderous rampage. And yes, you're not alone in making a silly B-52s song out of the title. But if you'd rather stick with something you already know is good, FX is showing X2: X-Men United starting at 8 PM.
FX has the 2002 remake of Solaris, with George Clooney, at 10 AM. Ditch work and join the select club of people who appreciate the Soderbergh revamp.
Friday, two new half-hour specials about Battlestar Galactica are airing on the Sci FI Channel at 10 PM. Battlestar Galactica: Revealed is a clip show that retells the first few seasons of the show. And Battlestar Galactica: The Phenomenon is a fluffy look at how much celebrities like Seth Green and Joss Whedon adore the show. If you can't wait until Friday, both shows appear to be on Youtube and various other video sites in their entirety already. Here's a chunk of celebrity BSG love:
Also, Encore has the wetter of Kevin Costner's two post-apocalyptic loner movies, Waterworld, at 2:30.
Saturday morning, the CW has the penultimate episode of Legion of Super Heroes at 9:30 AM, followed by Spectacular Spider-Man at 10. LSH's episode is part 1 of "Dark Victory," featuring Imperiex (who I think was a Superman villain in the comics.) Part 2 airs next week. Meanwhile, Spider-Man meets Flint Marko, who becomes the Sandman, probably with worse special effects and better pacing than Spider-Man 3. And then at 10:30, there's a new Transformers: Animated. The Decepticons begin their invasion of Earth, and Optimus Prime worries that he's not a great leader. Aww.
And then at 9 PM, BBC America has a new (to Americans) Torchwood. It's the absolutely horrible one about the evil circus performers who get trapped inside an old movie from the 1920s. I don't know how to convince you to stay away from this one. This isn't just random Torchwood bashing — this episode is like three weird old Roger Corman movies mashed up, with the Torchwood stars heads randomly stuck on some of the characters. Actually, when I describe it that way, it sounds kind of great. But sadly, it tries a bit too hard to be serious, and ends up being awful and boring. I feel like I have a holy duty to keep you from watching this episode.
Luckily, there are many other options around that time. IFC is showing Austin Powers twice in one evening, at 5:30 and 10:45. Sci Fi is showing the first two Resident Evil movies back-to-back. TBS has Jackie Chan's vastly underrated Tuxedo at 8, followed by Spider-Man at 10. (Okay, The Tuxedo isn't that great. But it's got a few great bits, including the weird James Brown sequence.)
Sunday, Comedy Central is re-running the Futurama movie "Bender's Big Score," if you were too cheap to buy the DVD. That's at 7 PM. And Disney Toon has a random episode of Superman: The Animated Series at 10:30. That's all I can come up with, unless you think there's some kind of brain-eating virus involved in all those women desiring Brett on Rock of Love.