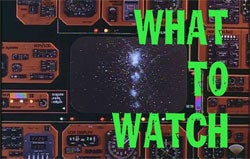 The biggest cliffhangers on TV this week are the ones that you, the viewers, will resolve on your own. Will Terminator: The Sarah Connor Chronicles pull out of its ratings slump in time to win a second season? Will Jericho improve on last week's blah performance enough to avoid a second cancellation? It's crunch time for some SF TV shows. Click through for full listings, plus we have sneak preview clips of this week's Lost and Sarah Connor.
Monday, there's a new Kyle XY (ABC Family, 8 PM). Judging from the trailer below, Kyle will actually start using his awesome powers to beat up other kids, which seems like a step forward. And Jessi will master telekinesis and looking hot on an exercise machine.
And then there's a new Sarah Connor Chronicles (Fox, 9 PM). We have two clips below, one of which is sort of good and one of which... isn't. Honestly, watching these two clips, I feel as though I've spotted a crucial flaw with this show: there's too much of Summer Glau's Terminator standing around talking. It was sort of cool at first, but it's starting to get a bit monotonous, especially since they keep playing the "she's a heartless machine" card. Plus, they're not called Talkinators.
Also on Monday, AMC has Terminator 2 at 3 PM, in case you want to compare Sarah Connors. (Probably a bad idea.) And HBO has Star Wars: Episode III at 2 PM.
Tuesday, there's a new Jericho (CBS, 10 PM). A very important person decides to make a surprise visit to the embattled post-apocalyptic town of Jericho, and gives Hawkins an unexpected opportunity to learn something about the bombs. It's the most political episode yet, and the one that made me decide Jericho was on a roll this year.
Also on Tuesday, there's a new Nova (PBS, check your listings.) Learn about the differences between ape and human minds, and what apes can teach us about people. Here's the Nova online companion for the episode. And in movies, TMC has Godsend, in which Rebecca Romjin-Stamos' genes are so important that we must resort to cloning to preserve them. That's at 9:35.
Wednesday, there's an all-new UFO Hunters (History Channel, 10 PM). Turns out they have UFOs in Mexico as well. Who knew?
Thursday, There's a new Lost (ABC, 9 PM). In the future, Kate is an assassin... and she's working for Ben! Oh, wait. Actually, if you want to know all about Future Kate, click here. And here are two new preview clips:
Also, ABC Family has The Incredibles at 6 and 8:30. And TMC has Aeon Flux at 5 and Futureworld at 6:40.
Friday, there's a new Stargate: Atlantis (Sci Fi, 10 PM). A new disease is spreading throughout the Pegasus galaxy! And meanwhile, Teyla believes the father of her child is trying to communicate with her.
Saturday, there's Torchwood (BBC America, 6 and 9 PM). Someone new has joined the Torchwood team, but everybody seems to believe he's been there for years. Here's our exciting recap of the episode, complete with a clip. It's actually a pretty good episode, and made us wonder if Torchwood is actually going to become watchable.
Also on Saturday, there's My Super Ex-Girlfriend at 10:10 AM on Cinemax. And the original Planet of the Apes at 11 AM on AMC. And Teenage Mutant Ninja Turtles and Teenage Mutant Ninja Turtles 2, back to back on ABC Family, starting at 5.
Sunday is a TV wasteland. Sorry.