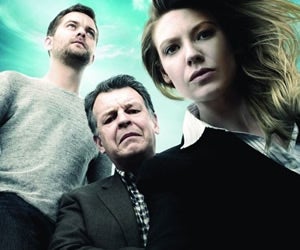 Fox's Fringe is suffering in the ratings for its second season. But is that because of the show itself, or does it have more to do with the night it's broadcast on?
The Hollywood Reporter's James Hibbard has a theory that Thursdays are just too full of programs aimed at the same audience to give Fringe a fair chance in its new timeslot:
[W]hen you look at what's on the night, you have two of the coolest soaps ("Grey's Anatomy" and "Vampire Diaries"). You have the two arguably hippest crime procedurals — "Fringe" and CBS' "The Mentalist." You have two of the most fashionable comedies, NBC's "The Office" and "30 Rock." And you have the most geek-friendly freshman drama, "FlashForward." Also crowding things is "Survivor," a highly rated show fans tend to watch the night it airs lest they're spoiled the next day. This doesn't read like a single-night's lineup, it's like a list of Entertainment Weekly cover stories. Very contemporary, wholly or semi-serialized, blog-friendly shows. And there's only so many titles a viewer will watch in a single night.
Hibbard argues that this has mix of programming is arguably the reason behind Fringe's fall in ratings this season:
The idea to put "Fringe" here was sound: "Grey's" and "CSI" and "The Office" are slipping. There's an opportunity to put a new sheriff in town. This move wasn't Fox devaluing "Fringe," this is Fox showing faith in "Fringe." But then ABC and The CW and CBS put their new cool shows on Thursday too.
Thursday isn't the only night this is happening; Friday sees Stargate Universe air at the same time as Dollhouse, with the younger-skewing, but still geek-friendly Star Wars: The Clone Wars showing on Cartoon Network. So what's the answer? Moving shows around, timeslot-wise? Investing in more DVRs or watching them online? Or dropping shows because nobody can watch everything...?
Did Fox blunder moving 'Fringe' to overstuffed Thursdays? [THR Live Feed]