Welcome back to The Jewels of Apator, a biweekly column on the intersection of science fiction and art by Ann and Jeff VanderMeer. One of the best science fiction graphic novels from the past few years doesn't use any words. It doesn't even come from our world. Deliberately weathered and made to look like a children's book left behind by a UFO, A.L.I.E.E.E.N. by Lewis Trondheim features duck-faced, frog-faced, and pig-faced aliens doing terrible things to one another. On any given page you might find something cute doing something cute, only to have it all go south Real Fast. The art style is a subversive take on Hello Kitty but in terms of what's happening, it's Saw mixed with Alien Autopsy.
Even better, the storyline is sly and clever, with four parts that come together with increasing complexity and strangeness. Fittingly, A.L.I.E.E.E.N. was nominated for an Eisner Award—just another in a long list of amazing imaginative leaps by Trondheim. He often shares these honors with Joann Sfar, co-creator with Trondheim of the famed Dungeon series. If A.L.I.E.E.E.N. is willfully perverse (check out the awesome online game for the book), then Dungeon is the Citizen Kane of epic fantasy comics—hilarious, touching, deep, and illustrated with genius-level precision.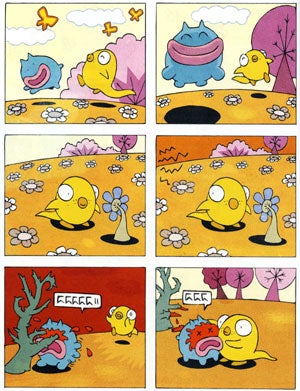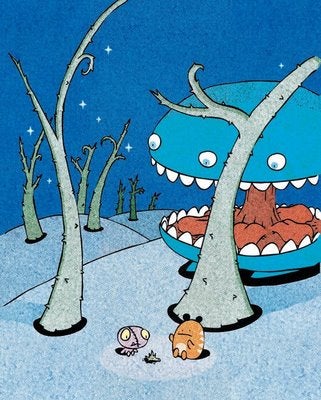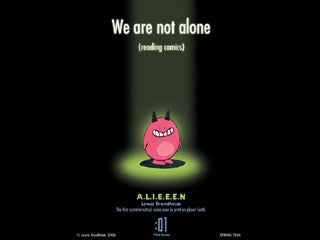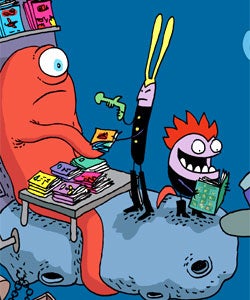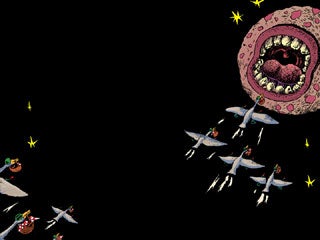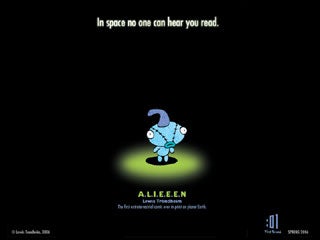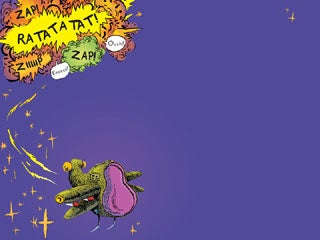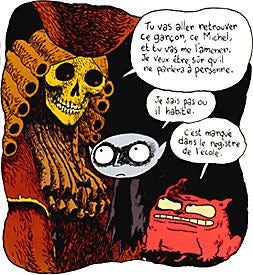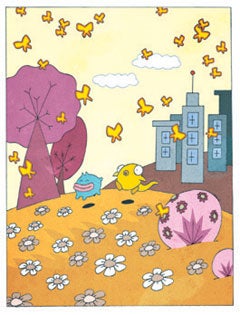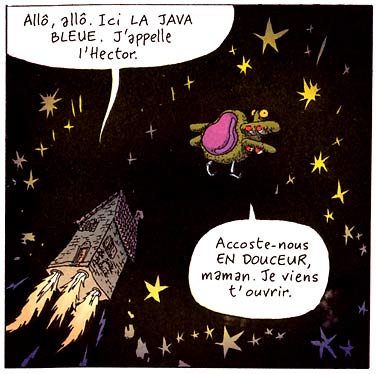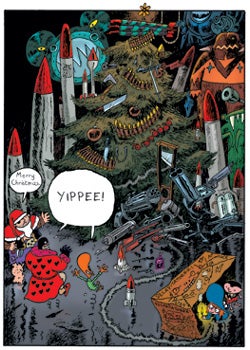 Sfar, with another French star, Emmanuel Gilbert, is also responsible for the playful science fiction series Sardine in Outer Space. Where A.L.I.E.E.E.N. could be described as a children's book for adults, Sardine is joyously for kids, even warning on the inside cover flap that no grown-ups are allowed, "unless they're pirates or space adventurers." From Doc Krok to Supermuscleman, Sardine includes a host of marvelous villains, each one made simultaneously real and exaggerated by Sfar's artwork. Everything from slapstick outer space pirate action to cosmic squid is choreographed in vibrant color and with an exuberant energy.
Together, as dual artists and writers, Sfar and Trondheim represent one of the best double-threats in comics. In terms of what each brings to their collaborations, Trondheim said in a Comics Journal interview,
It's very hard to say. Joann brings with him a strong cultural foundation, his knowledge of philosophy. I bring structure. The jokes and nonsense, that's both of us. Often we find ourselves being told: 'that gag, that's Lewis,' even if it was really Joann. Or 'that serious reflective moment, that's Joann,' and it turns out it was me. Since our goal is to systematically surprise each other, we've also become good at putting ourselves in each other's place, to think like each other.
Everyone has a different reason to like the duo. For editor Calista Brill from First Second (one of their major publishers in the US), Trondheim's AL.I.E.E.E.N. won her over:
[This] effortless homage to Jim Woodring's horrifying, alien landscapes was already gorgeous and awful before he added a new element: the poop joke. My inner intellectual, sated, was joined by my uncontrollably giggling inner five-year old. A winning combination.
(The poop joke in question may be one of the more sophisticated in a visual medium.)
Brill also points out:
[Sfar] can do anything....[his] loose, assured line and vibrant watercoloring on Klezmer won my heart the moment I picked it up. And with works as profound and diverse as The Rabbi's Cat, Sardine in Outer Space, and Vampire Loves, [he] proves again and again that he's...a force of nature.
What do we love about both Sfar and Trondheim? Their bold color choices. Their ability to make "cute" have a kind of seamless depth, with expressive characters and backdrops that teem with all sorts of absurd and bizarre details. An average panel by either artist is kinetic and doing four or five things at the same time. In France, Trondheim and Sfar are superstars, part of a creative explosion in the comics field. Fearlessness, an advanced sense of play, and a willingness to use a form only recently taken seriously have served them well as they continue to craft often breathtaking art and storylines.
Check out First Second for various Trondheim-Sfar galleries.