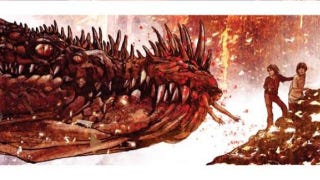 André Øvredal's Norse mythology found footage film Trollhunter was a work of art, what with its giant trolls lumbering through the Norwegian landscape, sniffing down the blood of Christians. We loved it, so we're doubly excited that Øvredal's next undertaking is bringing the graphic novel Enormous to life.
The Hollywood Reporter notes that Øvredal and Hitman producer Adrian Askarieh are teaming up for a steady-cam adaptation of this graphic novel by Tim Daniel and Mehdi Cheggour. Enormous takes place on Earth, after it's been brutally invaded by thousands of hungry, giant monsters. Øvredal will be launching Enormous on a "transmedia" platform which includes a web series, a TV show, and a feature film. That's a lot of kaiju. Here's a synopsis and snippet of the book from a few months back:
In the midst of a planetary battle for food and fuel, a vast ecological cataclysm spawns THE ENORMOUS, massive beasts unlike anything ever witnessed. Humankind struggles to stave off extinction and the only law is to hunt or be hunted. It's an epic action adventure featuring the survival of the biggest!