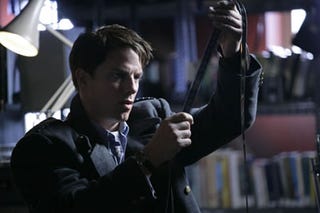 If you've been jonesing for some new Torchwood, your wait is almost over - the official trailer for this summer's Torchwood: Children of Earth mini-series is about to make its world debut this weekend.
According to Digital Spy, the new, one-minute trailer for the mini-series will go live on the BBC's Torchwood site on Thursday at 9pm GMT, exactly the same time as it's being shown at the New York Comic Con, where on Saturday, star Eve Myles and director Euros Lyn will be talking about the upcoming storyline.
We're slightly confused about exactly who will see this NYCC simulcast, as the convention doesn't officially start until the next day; perhaps it'll air at the start of Preview Night? Nonetheless, expect the internet - and this very site - to be discussing what's coming next for Captain Jack Harkness and crew very soon.
'Torchwood' trailer to air on Thursday [Digital Spy]