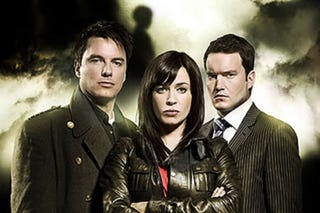 Feeling disappointed that the third season of Torchwood is only five episodes? You're not the only one; Series star John Barrowman has been talking about the new format, and he's not exactly that happy about it.
Talking to British TV Guide magazine Radio Times, Barrowman revealed hurt feelings about the decision to move networks from BBC Two to BBC One and limit the season to five episodes:
[P]ersonally, I felt like we were being punished. Other shows move from BBC Three and Two to One and they don't get cut. So why are we? It felt like every time we moved we had to prove ourselves.
Torchwood producer Russell T Davies explained the choice as less a punishment and more of a creative challenge:
Part of us thought, 'we could do another 13 episodes, we've learnt how to do that, and the second series was better than the first'. But why not change it?
Someone should introduce Davies and Barrowman; it sounds like they'd have a lot to talk about.
Torchwood cut 'like punishment' [BBC News]