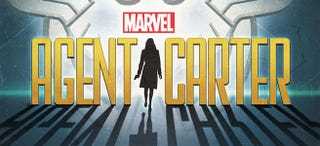 There was really no doubt in our minds that Dominic Cooper would be reprising his role as Howard Stark for the Agent Carter series. But now that we have (some sort of) confirmation we are legit excited.
When questioned about pranking at a fashion event Agent Carter herself, Hayley Atwell, spilled the beans to the Daily Telegraph that she's already onto Dominic Cooper and his behind-the-scenes pranking games.
He's incredibly naughty. So I'm going to start the pranks as early as I can. He will come up with some very good ones, too.
Aaaaaand now we can get ready for more fun sexual tension between these two; Dominic Cooper is really very good at that sort of thing, as is Atwell.