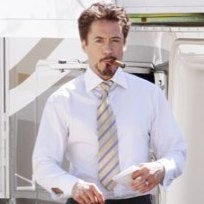 Iron Man 2 filming has finally begun, and everyone's favorite fast-talking (platform wearing) hero is back with Pepper, the Don Cheadle War Machine, and a few new faces.

Holy crap check out Tony's kicks.


Here's your first look at Cheadle, whos' replaced Terrence Howard as Tony Stark's bestest bud and the future War Machine James Rhodes. I'm sad to see Howard gone. Hopefully Cheadle can make me forget all about Howard's delightful version of Rhodey and make it his own - hopefully. Check out SpoilerTV for more Cheadle images.
Pacific Coast News snapped surprise costar Garry Shandling also on set (click on the image for a better look and for additional info).

And finally JFX Online scored a quick video of Sam Rockwell on set - sounds like just about everyone was there. I'm really excited to start seeing some footage, although Iron Man 2 still feels like forever and a day away.
Photos from Wenn.