Morning Spoilers
If there's news about upcoming movies and television you're not supposed to know, you'll find it in here.
The Japanese trailer for X-Men: Days of Future Past is kind of awesome. Tom Hiddleston is a sharp-dressed man on the set of del Toro's Crimson Peak. Amanda Seyfried joins the cast of Pan. Can Skye save Ward on Agents of SHIELD? Plus, Jennifer Garner's making a supernatural "feuding families" show. Spoilers now!
Top image: Avengers: Age of Ultron
Avengers: Age of Ultron
In addition to to refusing to say that Paul Bettany is playing the Vision, Kevin Feige was asked by Empire whether there would be a theme of "fathers and sons" as JARVIS gets a body:
I wouldn't go that far, in terms of it being that direct a theme. Certainly humanity and humanity's place in our world plays a large part of it, but I think Thor's about fathers and sons, more than this. If one were to confirm anything about Paul Bettany and look at the arc and the line of what Paul has done for us, that's pretty unique and cool and exciting and spins right out of stories we've told in the past.
And as for the Hulkbuster Armor, pictured above, Feige said:
That little tease was very intentional on our part. We found it a very compelling image to throw out there. The specifics around it we don't have to do for a while. It's a piece of armour we've wanted to see on screen for a long time, let's put it that way. What is the Hulkbuster suit built for.
G/O Media may get a commission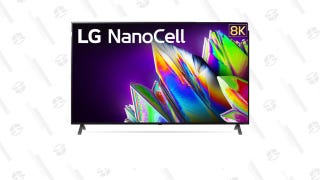 LG 75-Inch 8K TV
[In Empire, via Comic Book Movie]
Also in Empire, director Joss Whedon says Ultron isn't your typical movie robot:
I'm having a blast with Ultron. He's not a creature of logic — he's a robot who's genuinely disturbed. We're finding out what makes him menacing and at the same time endearing and funny and strange and unexpected, and everything a robot never is.
And Whedon said he wasn't just throwing in extra villains, such as Baron Strucker, Quicksilver and Scarlet Witch, for the sake of having more stuff. There's a reason for each of those characters to be in this film. [Empire via IGN]
The international release date will be April 24, 2015, with the United States date being May 1. [Coming Soon]
---
The Hobbit: The Battle of the Five Armies
Richard Armitage says the new title battle will be the centerpiece of the third film:
There's a couple of big surprises. The one thing I'm really looking forward to is seeing the Battle of the Five Armies.
---
Pan
Amanda Seyfried has joined the cast of this Peter Pan prequel as Mary. [Coming Soon]
---
Untitled Disney/Josh Gad Project
Writer/actor Josh Gad is working with Disney to create a family adventure "tentpole" with a science-fiction twist, co-written with Josh Dixon. [The Hollywood Reporter]
---
Deliver Us From Evil
Eric Bana describes his character in the supernatural thriller:
He is [an audience proxy], but in the best possible way. Sarchie has a dark secret that's not alluded to in any of the clips and trailers and it's fundamental to him and the film. That was exciting because it's very dramatic and, in a way, somewhat spiritual, somewhat real. It's a cool nugget from his past. It was a combination of him being a facts guy, dealing with real brutality and the things he saw in the Bronx every day. There's no shades of gray. It's just black and white, you either did something or you didn't. He's a reference point for the audience, but there's a whole other side to him that you slowly learn about.
Edgar Ramirez also describes his character:
I've got my own beliefs in the movie. He's a priest, but a Jesuit priest. He's aware of the lack of completion that both religion and science don't have all of the answers to. He knows both religion and science are limited. He's a liberal, particular, non-conventional priest who believes in what he stands for, but he doesn't judge for those who don't believe. He doesn't need to convince anyone. He's a lone wolf. His path crosses Sarchie and they have to cooperate.
---
X-Men: Days of Future Past
Here's the Japanese trailer:
---
Crimson Peak
Head over to this Groupthink post to see photos of Tom Hiddleston and Charlie Hunnam on the set of this Guillermo del Toro supernatural thriller, looking very sharp-dressed.
---
Godzilla
Here's a new poster. [Slashfilm]
---
Warcraft
Also in Empire Magazine is this photo of Duncan Jones on set. [via Buzzhub]
---
Edge of Tomorrow
Here's a Tom Cruise banner. [Coming Soon]
---
Agents of SHIELD
In revealing the poster for the next episode, executive producer Jeff Bell revealed some information about what transpires:
We know Skye and Ward are off on a mission together, and we know that she knows his secret, but we don't know exactly how their feelings for each other will affect them.

Right, exactly. Is she playing him? Does she also have feelings? Her feelings twisted, but can her feelings save him? Can his feelings pull her to the dark side? Is he really on the dark side? These are all really great questions that come out of this, and I think the poster does a nice job of embodying that.

The poster teases that Deathlok will play a major role in the final episodes of the season. And now that Garrett's been revealed as "The Clairvoyant," we know Peterson's been working with him…

We've kind of broken our faction. So on the Garrett side, you've got Garrett, you've got Ward there, you've got Raina, you've got Quinn, you've got Deathlok…we've got a pretty good assortment of villains all coming together. And Mike was there at the beginning, so we have to play that out.
See the poster below. [Entertainment Weekly]
---
Once Upon a Time
Here's a sneak peek for episode 3.19, "A Curious Thing." [via SpoilerTV]
---
All the Pretty Faces
Jennifer Garner is producing a supernatural series for Bravo. The show folllows to feuding immortal families who join together in a search for the secret to their eternal life following the death of a member of one of the families. [TV Guide]
---
Arrow
Here's an extended promo for episode 2.21, "City of Blood." [via SpoilerTV]
And here's a video interview with Kelly Hu:
---
Grimm
Go here for more photos from episode 3.20, "My Fair Wesen." [SpoilerTV]
---
Falling Skies
Here are video interviews with Moon Bloodgood, Sarah Carter, Seychelle Gabriel, and Doug Jones. [TV Equals]
---
Salem
Marilyn Manson's "Cupid Carries a Gun" will be featured in the opening titles. [Entertainment Weekly]
Additional reporting by Charlie Jane Anders and Madeleine Monson-Rosen