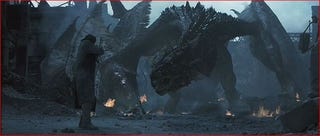 At 9:00 pm EST, we're picking a gem from the Netflix Watch Instantly library and tweeting the shit out of it. This week, we're fighting dragons with Christian Bale and Matthew McConaughey's Reign of Fire.
As we established last week, with Dune, every Monday night at 9pm Eastern, we're gonna pick a scifi film that's available on Netflix Instant and tweet our way through it. We've got a special Twitter account set up for it, so follow along with @io9commentary - and feel free to chime in by tweeting back with the #io9moviemonday hashtag.
We'll post the results, so you can re-experience the madness if you were there - or enjoy it for the first time, if you weren't. So, come and join our little soiree, won't you?