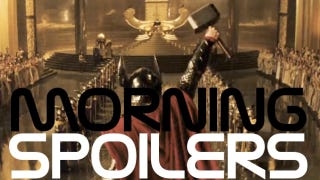 Morning Spoilers
If there's news about upcoming movies and television you're not supposed to know, you'll find it in here.
Tom Hardy describes his preparation to play Bane and whether he'll be donning the rather...unique costume from the comics. And Kevin Costner might be up for a role in the new Superman reboot. Plus Kenneth Branagh explains the appeal of Thor, some familiar aliens are returning in Prometheus, Matt Smith teases Doctor Who's new monsters, the V finale will actually feature some legitimately shocking moments, and more!
Spoilers from here on out!
Top image from Thor.
The Dark Knight Rises
Tom Hardy discussed his preparations for Bane, noting that he might not end up wearing the comic book version's bondage-inspired costume:
Well, only if I feel like [wearing] it. No. Again Chris Nolan will revisit that territory entirely. I wouldn't go by that at all. Plus, that's a lot of weight to put on and I've gotta start shooting in May, so I'm gonna go pack up to about 13-14 stone [182-198 lbs]. I'm 12 [168 lbs] and a bit now, so I've got 3 months to do that.
A fake press release was recently put out saying Marion Cotillard is playing Talia al Ghul and Joseph Gordon-Levitt is playing Black Mask. Whatever ends up happening - and I would be shocked if they end up playing either of those characters, even if they are ultimately cast - neither of the two Inception stars has officially joined the movie. They are at most in talks for roles, and whom they might be playing is still just a matter of complete speculation. [E! Online]
---
Superman Reboot
Kevin Costner is reportedly up for a role in Zack Snyder's movie, and the latest rumors are that the part in question is Jonathan Kent - which, considering Costner's Field of Dreams iconic Americana background, certainly seems like the obvious choice. Still, all this is just rumor right now, albeit a far more plausible rumor than those we usually see. [Latino Review]
---
The Avengers
The movie is no longer filming in Michigan due to the elimination of filmmaking tax incentives. No word yet on where the film will shoot those scenes instead. [Detroit Free Press]
---
Thor
Director Kenneth Branagh offers his take on why audiences should respond to a more unusual comics character like Thor:
"I was convinced when it was in development that part of this happening on contemporary Earth was absolutely the right way to go. And with the fantastical element we're asking people to go along with, one way to help that happen, and allow it to be dramatic and serious when it needs to be, is to have a sense of humor about it. The film was never designed to be portentous or self-important. It wants to have a really good time enjoying the consequences of the culture clash.

"We always felt there was a very strong mine of material in the fish-out-of-water. When you reduce a man who is arrogant by temperament, extremely oppressive and used to having his own way, dressed, um … unusually, you are immediately in a position where you have comic friction. This is a guy who continues to live his own reality. In his mind, he's still prince of the cosmos and he'll do what he wants. People from Earth getting in his way and asking silly questions is immaterial."
There's more at the link. [EW]
---
Prometheus
At this point, it's becoming increasingly unclear how this movie isn't just a straight-up Alien prequel, whatever Ridley Scott says. Now there are reports the movie will feature the Space Jockey, which was a mysterious, giant alien carcass briefly glimpsed in the original movie and presumably one of the prior victims of the Xenomorphs. Also, a spaceship is piloted by a giant half-human head, so this could all get pretty awesomely weird really quickly. [Sky]
---
Ghostbusters 3
When asked whether Ashton Kutcher could be one of the new generation of Ghostbusters, producer Ivan Reitman didn't rule it out. Note that he did not suggest such a casting or lend any additional credence to it beyond mildly affirming the interviewer's suggestion that that would be an interesting possibility. [Digital Spy]
---
Transformers: Dark of the Moon
Wondering if we're going to have to deal with another helping of Skids and Mudflap? The administrator of Michael Bay's official website wants to put your mind at ease. He says that, "...for the final time the Twins are not in this movie period - end of story." [TFLAMB]
---
Limitless
Here's a couple new posters from the movie where struggling author Bradley Cooper unleashes the full power of his brain, and corrupt businessman Robert De Niro probably exploits him, because that's just what corrupt businessmen do. [FilmShaft]
---
Dark Shadows
Tim Burton's longtime editor Chris Lebenzon explained how Burton and star Johnny Depp are approaching the material:
"It's a relationship movie. It's a lot of interaction of characters, from past and present."
---
Fringe
Here's a promo for the next episode, "Subject 13": [Fringe Television]
Here's a short synopsis for episode 16, "Os":
The Fringe Team investigates a group of thieves who can break the laws of gravity. Meanwhile, Walter attempts to delay the damage he's caused to the fabric of the universe.
---
Doctor Who
Matt Smith offers some more cryptic hints about series six and the new monsters, the Silence: [Life, Doctor Who, and Combom]
Gareth Roberts has now confirmed he's writing an episode for this season, and "Vincent and the Doctor" writer Richard Curtis might be returning as well. Intriguingly, we're now running out of slots for writers - if, as the rumors contend, Curtis is writing the tenth episode, then Roberts would have to be writing episode twelve, meaning Steven Moffat would be wrapping up this series in single thirteenth episode. Either way, Roberts says his episode contains the line, "I work in a show now." Anyone want to wager the next line is, "Shops are cool"?
---
Torchwood: Miracle Day
Episode 4 reportedly features the as yet uncast role of Ellis Hartley Monrow, "a perky and bright Caucasian woman who is campaigning for a new way of life. She is compelling but also may have some enemies who don't feel the same as her." [SpoilerTV]
---
The Event
Here are some details from NBC about the show's return:
President Martinez and his longtime Chief of Staff (guest star Roger Bart) charge the intelligence community with decrypting Thomas's satellite message, but more importantly determining to whom it was sent. While they are distracted, Thomas unveils a surprise attack, but he does not anticipate a heroic stand-off with Blake Sterling, who learns an important lesson about Sleepers from Maya (guest star Clea DuVall). Newly appointed Alaskan Senator Catherine Lewis (guest star Virginia Madsen, "Sideways") threatens to divulge information about the Mt. Inostranka detention facility on an episode of "HARDBALL with Chris Matthews" (playing himself). Sean and Leila get a fresh lead on the whereabouts of Samantha, but it leads them to a dramatic turn in their lives.
You can also check out some videos related to the show's return right here. [Unreality Shout]
---
V
The producers are planning some major, major character deaths in the season finale, with only Erica Mitchell and Morena Baccarin officially safe for now. Executive producer Scott Rosenbaum says two or possibly three of these characters are headed to their doom: Chad (Scott Wolf), Tyler (Logan Huffman), Ryan (Morris Chestnut), Father Jack (Joel Gretsch), Lisa (Laura Vandervoort), and Diana (Jane Badler). When asked about the coming deaths, Laura Vandervoort offered a couple of potentially very obvious hints about who is going to die:
"People are going to be shocked. When we read the script there was initially shock, then sadness." So who got the ax? "[It's like] seeing your son go off to college or grandma passing."
Those descriptions sound about right for Tyler and Diana, but we'll just have to wait and see, I guess. [TV Guide]
Additional reporting by Gordon Jackson, Michael Ann Dobbs, and Charlie Jane Anders.