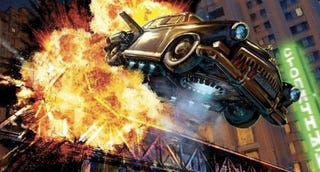 The super zoomy trailer for Bekmambetov's Black Lightning is out, and Holy Hell, does this guy like slow motion. Black Lightning looks like Wanted with a Volga, but that being said this is one kick-ass Chitty Chitty Bang Bang.
Black Lightning:
Even though I wasn't a big fan of Wanted, you cannot deny that it was a good looking piece of film. Even when they used slow motion for EVERYTHING, it still looked good. Slow motion James McAvoy brushing his teeth! Still, I really enjoy looking at Timur Bermambetov's work. And you can see his mark all over the latest trailer for Black Lightning, and he's only the producer (Alexandr Voitinsky is directing).
We've been waiting quite some time for this trailer and this flying car movie doesn't disappoint so far.
This is a story of Moscow University's student who becomes the owner of ordinary from the first sight, been-used, but... able to fly "Volga" car. With this car he will be able to not only avoid Moscow traffic jams, but unexpectedly for himself turn to city's defender, mysterious fighter against Evil.
Trailer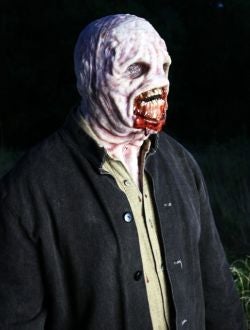 The Shrine:
Bloody Disgusting has a report from The Shrine's set, where they picked up this amazing photo. The film is about a group of journalists who head to a remote village in Poland to do a story on a disappearing backpacker, and of course, things go crazy and the journalists uncover a cult that likes to sacrifice humans. The whole thing is being shot with RED cameras, the report is pretty detailed, and here's the teaser trailer.
Teaser Trailer:


Remote
I can't stop hearing enough positive things about Marc Roussel's short Remote. Quiet Earth just reviewed it pretty positively, and you can never have enough clever short movies. We'll keep an eye out for it at the next film festival, where it is currently playing. Until then, here's the trailer.
Temporarily connected in time, a man tries to prevent the murder of a young woman, living in his house 30 years in the past.