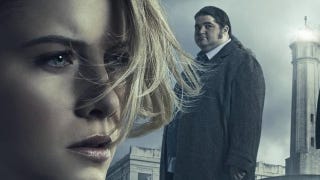 J.J. Abrams brings you another mysterious island and a ton of sinister clues, with his new show Alcatraz. Plus there are two other new shows debuting tonight. Meanwhile, this week also sees the return of several of your favorite shows, including Adventure Time, Being Human and Archer. Plus take a tour of the Lego factory!
And there are brand new clips from eight shows including Fringe, Adventure Time, Alcatraz and Vampire Diaries. Here's everything you need to know about this week's science fiction and fantasy television!
Today:
At 6:30 PM, there's a brand new Phineas & Ferb on Disney.
And at 7 PM, there's the premiere of a brand new series, Dragon Ball GT, on Nicktoons, with a two-hour TV movie, "A Devastating Wish Movie." Here's what Nicktoons wants you to know:
Where Dragon Ball Z Kai ends, Dragon Ball GT rises to take its place as the next installment in this wonderful franchise. Dragon Ball GT launches with a two and a half hour movie premiere on MLK Day, followed by premieres every Wednesday and Thursday throughout the rest of the month.
Adventure Time returns! The adventures of Finn and Jake debut in their new timeslot, Mondays at 7:30 PM, on Cartoon Network. In "Paper Pete,"
While Jake does research in the library, Finn helps a race of paper people defeat their moldy attackers.
Check out a new clip at left. And that's followed at 8 PM by a new Regular Show.
At 8 PM, there's a two-hour premiere of Alcatraz, a brand new show from J.J. Abrams, on Fox. Here's what to expect from the first two episodes, back to back:
Detective Rebecca Madsen and Alcatraz historian Dr. Diego Soto, team up with a secret agency dedicated to finding and catching inmates from the Alcatraz prison who went strangely missing 50 years ago and are reappearing in today's world. But, when a sniper begins targeting young victims, the team is forced to look in the past in order to solve today's mystery.
Check out three clips at left, featuring "hip" video game talk.
And at 9 PM, there's the season premiere of Being Human on Syfy! According to Syfy, in season two, "Sally learns how to take over the body of others and slowly becomes addicted, Josh is still learning how to control his rage and still has Nora to account for and Aidan doesn't quite know how to deal with becoming the new leader of Boston." Check out a new featurette at left.
At 9:30 PM on Disney, there's a brand new A.N.T. Farm.
Syfy has the debut of a brand new (to Americans) series called Lost Girl at 10 PM, in which "A Sexy Succubus Plays Both Sides." A couple seasons have already aired in Canada. Here's Syfy's description for the show:
Anna Silk (The Ghost Whisperer) stars as seductress Bo, a Succubus (a powerful female entity in folklore) who feeds off sexual energy. Raised by human parents, Bo had no reason to believe she was anything other than the girl next door - until she "drained" her first boyfriend to death. In the premiere episode, Bo discovers she is one of the Fae, creatures of legend who pass as humans while secretly feeding off them. Faced with choosing between an allegiance to the Dark or Light Fae clans, Bo takes the middle path between the human and Fae worlds while embarking on a mission to unlock the secrets of her origin.
Check out a sneak peek above.
At 10 PM, there's a brand new Castle on ABC, "Dial M for Mayor."
Tuesday:
At 7 PM, Nickelodeon has more episodes of House of Anubis, "House of Protection"/"House of Letters."
No new Unforgettable on CBS this week.
Wednesday:
Nickelodeon has two more new episodes of House of Anubis at 7 PM.
At 7:30, Cartoon Network has a new Johnny Test, "Lakeside Johnny." Could Johnny be going on a Fantastic Voyage? That's followed at 8 by a new Ninjago.
And at 8 PM, there's another new Dragon Ball GT on Nicktoons.
At 9 PM in most markets, PBS has a new episode of Nova, "3D Spies of WWII."
With 3D graphics, NOVA reveals how the Allies used special aerial photos to deal a dire blow to the Nazi rocket program.
Thursday:
Nickelodeon has another two new episodes of House of Anubis at 7 PM.
At 8 PM on The CW, there's a brand new Vampire Diaries, in which:
PERSIA WHITE GUEST STARS AS BONNIE'S MOTHER - Bonnie (Kat Graham) believes her recurring dreams about Klaus' (Joseph Morgan) coffins will tell her how he can be killed. The dreams also lead Bonnie to a reunion with her mother, Abby (guest star Persia White, "Girlfriends"), whom Bonnie hasn't seen for 15 years. At Abby's remote farmhouse, Bonnie and Elena (Nina Dobrev) meet Jamie (guest star Robert Ri'chard, "One on One"), the young man Abby took in years earlier. Bonnie's sudden appearance catches Abby off-guard, but she does her best to explain the past. Tyler (Michael Trevino) turns to an unexpected ally in his quest to regain his free will. Damon (Ian Somerhalder) is intrigued by Alaric's (Matt Davis) new friend, Dr. Fell (guest star Torrey Devitto), and Klaus continues his bitter negotiations with Stefan (Paul Wesley) over control of the coffins containing his family members.
Check out a sneak peek above.
Also at 8 PM, there's the 100th episode of The Big Bang Theory on CBS, "The Recombination Hypothesis." In which:
Everything might change when Leonard offers Penny a spur of the moment invitation to a romantic dinner for two.
At 9 PM, CBS has another new episode of Person of Interest, "Legacy":
When Carter finally comes face-to-face with Reese, he urges her to join forces to help with their latest POI, a scrappy young woman from the wrong side of the tracks who turned her life around and became a lawyer.
Also at 9 PM, there's a new Secret Circle. Here's what's next:
Jake (Chris Zylka) returns to Chance Harbor to warn Cassie (Britt Robertson) that unless they find out how her father was killed in the boat fire 16 years ago, she'll meet with the same death. He suggests an extremely dangerous method to finally uncover what happened on that fateful day, but Adam (Thomas Dekker) and Diana (Shelley Hennig) suspect he has ulterior motives. In an effort to usurp the other, both Charles (Gale Harold) and Dawn (Natasha Henstridge) try to get Ethan (Adam Harrington) on board as an ally. Faye (Phoebe Tonkin) gets trapped in a dangerous situation when one of Lee's (guest star Grey Damon) friends, Callum (guest star Michael Graziadei) stops by the shop.
At 10 PM, FX has the season premiere of Archer, its animated spy parody. Check out a new clip at left. Here's what to expect:
Burt Reynolds dates Malory, much to Sterling's dismay.
Friday:
No new Supernatural or Nikita tonight.
Cartoon Network is showing another new Secret Mountain Fort Awesome at 4:30 PM.
Once again, Nickelodeon has two new episodes of House of Anubis at 7 PM.
At 8 PM, there's another episode of Chuck, on NBC, "Chuck Vs. The Bullet Train." In which:
When a mission in Japan becomes a hostage situation, Sarah (Yvonne Strahovski) and Chuck (Zachary Levi) must face the merciless Nicholas Quinn (guest star Angus Macfadyen, "Braveheart") aboard a speeding Japanese bullet train. Meanwhile, the mission leaves Casey with an impossible decision.
Also at 8 PM, there's a new episode of Star Wars: The Clone Wars on the Cartoon Network, "Deception." Here's what's going on:
When the Jedi learn of a Separatist plot to kidnap Chancellor Palpatine, one of them must go deep undercover as a hardened criminal to extract information from the conspirators.
At 8:30 PM, there's a brand new A.N.T. Farm on Disney, and a new Generator Rex on Cartoon Network.
At 9 PM, Fox has a new episode of Fringe, "Enemy of My Enemy":
Peter's visit to the other side intensifies as the alternate FRINGE division faces off against a formidable new foe in a harrowing race against time.
Here's a sneak peek!
Meanwhile, at 9 PM, NBC has a brand new Grimm, "Of Mouse and Man." Here's what happens:
While investigating a gruesome homicide, Nick (David Giuntoli) learns that a seemingly mild-mannered resident could be festering a potential monster created from a dark childhood. Meanwhile, Monroe (Silas Weir Mitchell) is sent an unsettling message by the creature community, who are beginning to wonder if his priorities lie with them or a Grimm.
At 10 PM, Syfy has a new (to Americans) episode of Merlin, "The Wicked Day."
While Camelot's citadel is frantic in preparation of Prince Arthur's birthday party, King Odin plots to ensure this is one celebration Camelot will never forget. The prince's old adversary has arranged for a deadly assassin to lurk among the assembling guests with intent to strike.
At 11 PM, G4 has a new (to Americans) episode of Blade Anime, "A Night for the Living, A Mourning for the Dead."
Saturday:
At 5 PM, The Hub has a new episode of R.L. Stine's The Haunting Hour: The Series.
At 8 PM, National Geographic's Ultimate Factories has an episode focusing on the Lego factory.
At 9 PM, BBC America has episode two of The Fades — and if you think you know where this show is going after one episode, you're in for a lot of surprises this time around. Here's the official synopsis:
The Fades are coming and Paul realizes that he may have to face them head on. Haunted by further disturbing visions and new powers. Paul decides he must choose: life as an Angelic or a normal life. Meanwhile, Sarah watches the living while Neil struggles to protect Paul.
Sunday:
At 8 PM there's a new Once Upon a Time on ABC, "7:15 A.M":
Mary Margaret and David continue to grapple with their unrequited love, and Emma and Regina grow suspicious over a mysterious new stranger in town. Meanwhile, in the fairytale land that was, Snow White yearns to ease her breaking heart as Prince Charming's wedding to King Midas's daughter approaches.
At 10 PM, there's a brand new Finding Bigfoot on Animal Planet, "Canadian Bigfoot, Eh?"
At 11:30 PM on Cartoon Network's Adult Swim, there's another episode of Robot Chicken,
At 12:15 AM, Mary Shelley's Frankenhole returns on Cartoon Network's Adult Swim. Here's a new clip, and a synopsis:
In the second season of Mary Shelley's Frankenhole, we find Victor Frankenstein a lot more domesticated, a little more vulnerable, but with the exact same amount of narcissism coursing through his immortal veins. Together with his wife Elizabeth, their adopted artificial son The Creature, and a bunch of other idiots they tackle various mortal problems such as: who are your biological parents when you're stitched together from cadavers; how can you destroy vampires when there's a group of undead rights activists protecting them; and who's better at giving birth-men or women?
And here's a second clip:
Sources: Futon Critic, MSN TV, TV Guide, and various TV studio press releases.