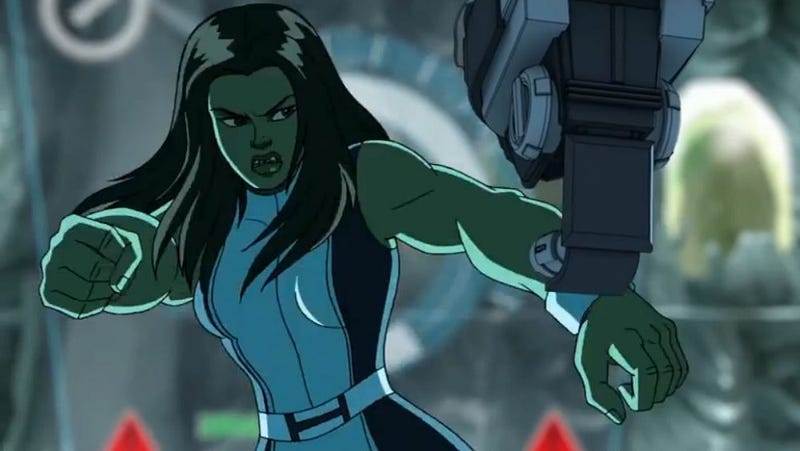 We still have to wait a month and a half for Agents of S.H.I.E.L.D., but this week Marvel is giving us the next best thing! Plus the final episodes of Breaking Bad are here. And is Shark Week still worth watching, or has the focus on education and conservation gotten tossed overboard? Watch clips from all this week's shows.
Top image: Marvel's Hulk and the Agents of S.M.A.S.H.
Today:
Adventure Time (7:30 PM, Cartoon Network)
Every week, we're like, "This is the weirdest plot they've ever come up with." But this week? We feel rock solid in our judgment. Check out the clip above, and here's what to expect from "Frost and Fire": "After Flame Princess battles Ice King, Finn has an exciting dream. But when it abruptly ends, Finn must get Flame Princess and Ice King to fight again to find out how it ends." That's followed by Regular Show and Mad.
Return of Jaws (9 PM, Discovery):
This year's Shark Week programming includes some primo shark footage, captured via robot shark cam!
[A major] first this year is Shark Cam, a robot submarine that is used to track sharks in a new and exciting way. This SHARK WEEK special includes spectacular footage of Shark Cam following Great White sharks living and hunting off the shores of Cape Cod, the setting for the Jaws film franchise. Footage of a 17-foot Great White is seen at close range over a five hour period as the shark hunts seal colonies, comes close to shore in less than four feet of water and takes a chilling interest in one specific area.
That's followed at 10 PM by another special, Voodoo Sharks.
Under The Dome (10 PM, CBS):
We're officially halfway through the season. When are we going to figure out which of these characters to root for? This week, the Dome is yet again having a mind of its own: "Big Jim takes matters into his own hands when he feels his authority slipping away, and the dome displays its power when a life is taken just as a newborn arrives."
Teen Wolf (10 PM, MTV):
Looks like we're finally getting to know the Darach! Here's what to expect: "Trapped inside an evacuated Beacon Hills hospital by a powerful storm, Scott and Derek must defend themselves against the Alphas while trying to figure out how to save Cora's life."
Also on TV tonight: There's a new Siberia on NBC at 10 PM.
---
Tuesday:
I Escaped Jaws/Spawn of Jaws (9 PM, Discovery)
Apparently Steven Spielberg did not trademark the name "Jaws," because his name is all over Shark Week this year. In these specials, we view real shark attack footage captured by eyewitnesses, and then later we follow some scientists trying to understand the breeding cycle of the Great White shark, searching for the sharks' breeding grounds in hopes of helping them to repopulate.
Also on TV tonight: A new Bang Goes the Theory on BBC America at 9 PM. And a new Capture, the "Hunger Games in three acres" show, on The CW, also at 9 PM.
---
Wednesday:
Top 10 Sharkdown/Great White Serial Killer (9 PM, Discovery):
First, we reckon up the most deadly shark attacks of the 21st century and look at the sharks you should be most scared to meet this summer. And then Emmy-nominated producer Jeff Kurr looks at two different fatal shark attacks, to try and figure out if the same shark was responsible for both. Could we be dealing with... a shark serial killer? (On a possibly related note, commenters over at the Discovery Shark Week page are expressing sadness that Shark Week no longer focuses on shark conservation, and instead only features mindless shows about "who was bit by what.")
Alien Files (10 PM, Destination America):
The first episode of a brand new show. I'm not saying it's aliens... but it's aliens.
Abductions, invasions, and conspiracies about aliens surround our world every day, from nightly news to video games to the latest box office hit. Delving into the "photoshopping" of space, the value of Wikileaks, and the role social media plays in alien stories, Alien Files offers a unique 360 degree look at how alien interaction may have affected our past, and how it will affect our future.
Confused by the Wikileaks/aliens link? More details here. This show is preceded by a special called Alien Autopsy.
Futurama (10 PM, Comedy Central):
Looks like Leela's in trouble! For one thing, Mom's put her in a cage and is poking her with a stick, and for another she appears to be showing some new mutations, thanks to Mom's genetic experiments. Apparently in this episode, Fry sells the Planet Express ship to get Leela an operation she needs. Also, Adam West and Burt Ward turn up as heads, with West's head on a Bat-body. Literally.
Also on TV tonight: Cartoon Network has new episodes of Annoying Orange, Amazing World of Gumball and Legends of Chima, starting at 7 PM. Syfy has a new episode of Joe Rogan Questions Everything at 10 PM.
---
Thursday:
Teenage Mutant Ninja Turtles (8 PM, Nickelodeon):
The Turtles are back for a one-hour two-part season finale. The Turtles mount a last-ditch, desparate attack on TCRI to close an alien portal, before it's too late. And they fight basically everybody.
Invasion Roswell (9 PM, Syfy):
Syfy is once again running its beloved B-movies on Thursday evenings. Sadly, this isn't a sequel to the TV show about teenage aliens living amongst us. But it does have kind of a charming story idea, about retired commandos who are the only ones trained to fight aliens nobody believes in any more:
Invasion Roswell [marks] the anniversary of the famous July 1947 incident when some claim the U.S. Government covered-up the crash-landing of an alien spacecraft in Roswell, New Mexico. In the movie, after the American Army shot down the UFO, they secretly trained elite commandos to deal with the aliens' feared return. However, the extra-terrestrials never came back and the elite force was disbanded. Sixty-six years later, the aliens are invading Earth and only the over-the-hill retired commandos can stop them. A production of UFO Films, Invasion Roswell stars Greg Evigan (Melrose Place) and Denise Crosby (Star Trek: The Next Generation).
Sharkpocalypse/Alien Sharks of the Deep (9 PM, Discovery):
As Shark Week continues, we look at one of the deadliest years for shark attacks on record, and speculate wildly about whether declining shark numbers are responsible for sharks moving in closer to shorelines (and thus attacking more people.) Later, we venture into the unexplored ocean depths and meet the strangest sharks on Earth, including the Goblin shark and the elusive, giant Megamouth shark. MEGAMOUTH!!! (I think it's pronounced like "Bournemouth.")
Also on TV tonight: A new Burn Notice on USA at 9 PM. And a new Wilfred on FX at 10 PM. Plus a new NTSF:SD:SUV on Adult Swim at 12:15 AM.
---
Friday:
Great White Gauntlet (8 PM, Discovery):
Shark Week ends with a look at the deadliest Great White feeding grounds, where divers brave death to harvest the valuable abalone sea snail, off the coast of South Australia.
Continuum (10 PM, Syfy):
By all accounts, this is basically "part two" of this past Friday's story about Julian stepping up to a position of leadership: "Kiera is captured by Julian's followers in the wake of a sneak attack executed by the shadowy group posing as Section Six; at the same time, Alec tries to track down Travis by reactivating his military chip, but shortly thereafter the hunter becomes the hunted."
Also on TV tonight: There's a new Phineas & Ferb on Disney at 9 PM.
---
Saturday:
Beware the Batman (10 AM, Cartoon Network):
They've found a new spin on the "sinister statues" thing: "A collection of new statues pops up around Gotham and Batman and Lt. Gordon must work together to save the people trapped inside before Humphrey Dumpler aka Humpty Dumpty destroys them."
Being Human (10 PM, BBC America):
It's the penultimate episode of the British version of this supernatural soap opera, and it's all about Tom's tragic love life, with a healthy dose of angst and misery thrown in for good measure.
Also on TV today: At 11:30 AM, Nickelodeon a new Rabbids Invasion. Syfy burns off the remaining episodes of Primeval: The New World — basically airing the entire season in a single day, including all six of the previously unaired outings. At 10 PM, H2 has another episode of Your Bleeped-Up Brain. And at 11 PM, there's a new Axe Cop on Fox.
---
Sunday:
Hulk and the Agents of S.M.A.S.H. (11 AM, Disney XD):
We tend to think of the Incredible Hulk as not being much of a team player — but this show begs to differ. In this one-hour series premiere, we discover that the Hulk plays well with others after all. I'm for anything that puts Annihilus on television, in any format. Here's the skinny on the big green guy's exploits:
Hulk's best pal Rick Jones begins making a web-series to show the world Hulk is a hero and Big Green gets his first chance to prove it when Annihilus invades Earth! [Then] the newly formed Agents of S.M.A.S.H. - including a Hulked-out Rick Jones aka A-Bomb - invade the Negative Zone to stop Annihilus once and for all.
And apparently Devil Dinosaur is going to become their housepet. I'm in. That's followed by a new Avengers Assemble at noon.
True Blood (9 PM, HBO):
I can't believe this synopsis uses "ferry" and "faerie" in the same sentence:
A desperate Bill (Stephen Moyer) tries to ferry Warlow (Rob Kazinsky) away from the faerie plain, but Sookie (Anna Paquin) is having none of it. Meanwhile, Eric (Alexander Skarsgard) arrives at vamp camp, looking to inflict serious human damage. In Bon Temps, friends and family take emotional turns remembering a fallen neighbor. Bill feels the pull of Lilith's (Jessica Clark) sirens.
Also on TV today: The final episodes of Breaking Bad, the very best show about science gone awry, start at 9 PM on AMC. CBS has another new Unforgettable at 9 PM. There are season premieres of Aqua Teen Hunger Force and Squidbillies at midnight on Adult Swim.
Sources: Futon Critic, MSN TV, TV Guide, and various TV studio press releases.