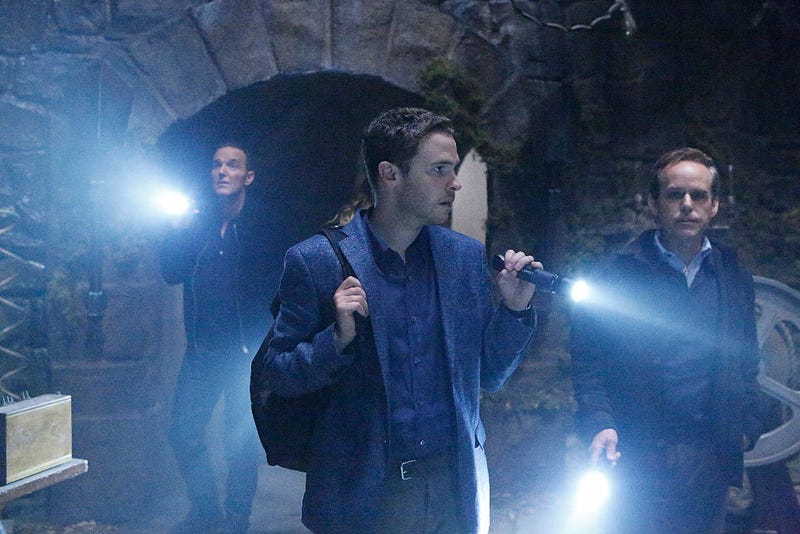 How on Earth (or Asgard) is SHIELD going to get back its most amazing science expert? And will she be the same when she returns? Plus can Sleepy Hollow bounce back? Also, Parasyte makes its nocturnal debut, and AMC is airing a very rare killer snake movie! All this, plus plant zombies, on This Week's TV!
Tonight
The Amazing World of Gumball (7PM, CARTOON)
New episodes every night this week, beginning with "The Upgrade."

Gotham (8PM, FOX)

Following his reinstatement, Gordon is thrust onto the high-profile case tracking the deadly inmate escape from Arkham Asylum. Meanwhile, Galavan plans his next move, while Bruce enlists the help of his father's old friend to unlock the secrets in his office, and Nygma attempts to ask out Kristin Kringle (guest star Chelsea Spack) on a date in the all-new "Rise of the Villains: Knock, Knock," episode of GOTHAM.
You have to appreciate this "Red Band" trailer for an eight o'clock family drama about Batman as a child.
Minority Report (9PM, FOX)

Dash and Vega team up again to find a killer who is currently down on love. Meanwhile, Dash continues to reach out to his siblings for help in the all-new "Mr. Nice Guy" episode of MINORITY REPORT.
Blindspot (10PM, NBC)

Just two episodes in and they're already going up against an evil Air Force pilot...
Tuesday
The Muppets (8PM, ABC)

In an attempt to make Miss Piggy happy, Kermit sets her up with Josh Groban who fills her head with ideas on how to make Up Late with Miss Piggy better. Meanwhile, Fozzie is invited to a party at Jay Leno's house and everyone is annoyed that Bobo is selling cookies for his daughter's troop.
Kermit calls Josh Groban a "dork"—could the "acerbic" Kermit of '69-'72 (Hey, Cinderella!; "Muppet Frog Prince) make his long-overdue comeback?

Face Off (9PM, SYFY)

The artists compete to make outlandish sideshow freaks. Kind of like that 1993 Alex Winter movie, Freaked!

From Dusk Till Dawn (9PM, El Rey)
Richie and Seth call a truce and work together to find Malvado's headquarters. Carlos, unhinged from the Labyrinth, abducts Santanico and claims her for himself. And Kate enlists Freddie's help as she attempts to save her brother.

Agents of SHIELD (9PM, ABC)

When Coulson and the team discover a new Inhuman, S.H.I.E.L.D. comes face to face with another organization searching for powered people. And still reeling from Simmons' dramatic disappearance, Fitz goes to extreme lengths to try to learn how to get her back.
Season premiere!
Scream Queens (9PM, FOX)

Pilot was entertaining, but the show has a long way to go before reaching the heights of Psycho Beach Party or Student Bodies ("Talking? During horsehead bookends!?")
Bastard Executioner (10PM, FX)

Lady Love journeys to Windsor to learn the fate of Ventrishire from King Edward II. Back at Castle Ventris, Milus and company welcome a visit from Baron Pryce.
Limitless (10PM, CBS)
Subtitulado en español.
Wednesday
Ghost Hunters (9PM, SYFY)

This one's called "There Ghosts the Neighborhood," which I'm a little charmed by.

Moonbeam City (10:30PM, COMEDY)

Following a new South Park!

Thursday
Steven Universe (6PM, CARTOON)

Now that Peridot lives in the bathroom, things are going to start getting real between the Gems.
Teen Titans Go!

New episode! Only info I have is that it's called "The Fourth Wall," so expect some salient commentary on Diderot and direct address in cinema.
Heroes Reborn (8PM, NBC)
Erica Kravid (Rya Khilstedt), the powerful woman behind the global conglomerate Renautas, reveals just how far she will go to protect the world from Evos. Tommy (Robbie Kay) finds comfort in sharing his ability with Emily (Gatlin Green) and a new-found popularity at school. In Japan, Miko's (Kiki Sukezane) rescue mission comes up against some unexpected obstacles. Elsewhere, Noah Bennet (Jack Coleman) continues to work with Quentin (Henry Zeborwski) in his search for the truth and Malina (Danika Yarosh) is guided by an unseen force. Meanwhile, Luke (Zachary Levi) and Joanne (Judi Shekioni) continue on their deadly mission and Carlos' (Ryan Guzman) search for answers causes him to dig deep to find the hero within.

One hell of a busy episode!

Sleepy Hollow (9PM, FOX)

With old enemies gone, Abbie and Crane are seemingly moving on with their lives. However, the discovery of a mysterious tablet shows that there may be a new dark prophecy surrounding our Witnesses. The two team together, with the help of an old amulet, and continue their epic takedown of the forces of evil in the all-new "I, Witness."

Season premiere! The press has suggested season three will be a "soft reboot," back-to-basics approach for this series based on a headless man who throws pumpkins.

Dominion (10PM, SYFY)
Season finale! Not all will survive in, Sine Deo nihil *
*Title translates to "nothing without God." —The "Gregorian" Gordon!
Friday
Haunted House Movie Marathon (TCM, 8PM)

Two on a Guillotine, House on Haunted Hill ('58), The Haunting ('63), The House of Seven Corpses and House of Dark Shadows! Back-to-back-to-back!

Z Nation (10PM, SYFY)

Plant zombies! An "herbal cure" for the outbreak leads to Man-Things, Swamp Things and Heaps!
Continuum (11PM, SYFY)

Still chugging along at eleven PM.
Saturday

Pokemon (8AM, CARTOON)
Jessie's Gourgeist learns seedbomb as an Abomasnow fears for its missing Snowver!
Doctor Who (9PM, BBC AMERICA)

First part of a two-part serial introducing The Fisher King, voiced by Peter Serafinowicz (while speaking), but by Slipkot's Corey Taylor when screaming—no joke.
Svengoolie Presents Night Monster (10PM, MeTV)

I love this movie! Excellent pacing and dialogue, with a legitimately spooky resolution—not to mention the ultra-weird conjuring scene! A classic, and maybe the most underrated of the Universal horror pictures.
Sunday

Parasyte (1AM, CARTOON)

US premiere of this great series about an alien possessing a man's hand. See it!

Rattlers (2:15AM, TCM)

Very rare killer snake movie not available on any decent home video release—so see it here in HD!
The Swarm (3:45, TCM)

Irwin Allen's star-studded killer bee movie!
Once Upon a Time (8PM, ABC)
Season premiere!
Fear the Walking Dead (9PM, FX)

Season finale!
National Geographic Explorer: Legend of the Monkey God (9PM, NGC)

Last Man on Earth (10PM, FOX)
"Phil searches desperately for Carol after they're separated without phones or walkie-talkies in the all-new 'The Boo'"

The Strain (10PM, FX)

Season finale!
Rick & Morty (11:30PM, CARTOON)

Yeah, take that, Snarfs!