Netflix's new series Between premieres this week, following a town full of kids who have no adults around and no way to escape to the outside world. Plus, we've got a clip of Wells revealing his motives to Barry on The Flash season finale and a look inside Supernatural's season finale as well.
Tonight
StarTalk (11 PM, National Geographic)
Neil deGrasse Tyson interviews evolutionary biologist Richard Dawkins and discusses science and religion with studio guests Eugene Mirman and Reverend James Martin.
Tuesday
The Flash (8 PM, The CW)
On the season finale, Wells presents Barry with a potentially life-changing decision. But Barry will have backup: Dr. Martin Stein and Ronnie Raymond are back to help out the S.T.A.R. Labs teams.
iZombie (9 PM, The CW)
The Max Rager company is back in the picture when Liv and Clive investigate the death of an alcoholic journalist who was investigating a link between psychotic episodes and consumption of the Max Rager energy drink. Meanwhile, Major fears he's going crazy and Ravi tries to help him out.
G/O Media may get a commission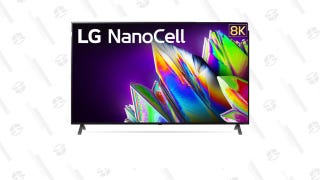 LG 75-Inch 8K TV
Wednesday
Supernatural (9 PM, The CW)
In the season finale, Dean makes a shocking decision about the Mark of Cain that will affect not just his own life, but Sam's life as well.
Thursday
Cartoons (5 PM, Cartoon Network)
This week's Uncle Grandpa (5 PM), will consist of three shorts in three different animated styles by guest animators Pen Ward, Mike Wartella, Max Winston, and Nick Cross. On Clarence (5:30 PM), Clarence is spending the summer helping out his mom at Hip Clipz Salon School, but after a rude customer bosses around Mary and the rest of the staff, Clarence gives her "a haircut she'll never forget." It's Crazy Day once again on Teen Titans Go! (6 PM), and Raven has to avoid being drive crazy by the other Titans. And on Adventure Time (7:30 PM), Finn and Jake spend the day at a post-apocalyptic water park.
Wayward Pines (9 PM, Fox)
After finding Secret Service agent Bill Evans' body in an abandoned house, Ethan continues to search for clues with the help of Beverly. Meanwhile, Theresa and Ben decide to go to Idaho to look for Ethan and Ethan finds out why residents of Wayward Pines always have to answer their phones.
Olympus (10 PM, Syfy)

Apparently the description for this week's episode was accidentally released last week. Here it is again:
Hero learns the only way to unlock his destiny is to kill someone he loves.
Between (Streaming as of 11:30 PM ET, Netflix)
The first episode of the Canadian drama lands on Netflix this week, showing us what happens to a small town where everyone over age 21 dies from a mysterious illness, leaving all its young people alone and under quarantine.
Friday
Axe Cop (12 AM, FXX) & Major Lazer (12:15 AM, FXX)
Cops and dinosaurs, superheroes and dystopia. What more do you need?
Bitten (9 PM, Syfy)
An old villain returns, a secret past is revealed and Elena learns she's probably going to die. Yep, good times.
The Messengers (9 PM, The CW)
As the fully united Messengers work to track down the Second Horseman of the Apocalypse, Alan (Craig Frank) and Vera (Shantel VanSanten) continue their quest to uncover the genesis stone's secrets. Meanwhile, Erin (Sofia Black D'Elia) begins to discover the price of her gift.
Lost Girl (10 PM, Syfy)
Dyson investigates a murder victim who won't stay dead, while Bo and Tamsin enter the world of college football. Yes, really.
Saturday
Orphan Black (9 PM, BBC America)
Now that Paul knows more about Dr. Coady's nefarious plot, he feels he has no choice but to make a movie. Plus, Felix and Rachel come face to one-eyed face.
Sunday
Game of Thrones (9 PM, HBO)
We're going to hang out with Jon, Stannis, Brienne, Sansa, and Jaime next week, with Sansa making an effort to talk to Theon after last night's awfulness and Jaime trying to reconnect with family (we're guessing that means Myrcella).
Lizzie Borden Chronicles (10 PM, Lifetime)
It's the first season finale of the Fall River Ax Murder-inspired series:
Lizzie races to Boston, where Emma has taken refuge in the home of Adele Trotwood.
Penny Dreadful (10 PM, Showtime)
Lyle reveals that the Verbis Diablo relics tell a very dark and disturbing story that affects Vanessa; Rusk interviews the survivor of the attack at the Mariner's Inn; Hecate tries to get closer to Ethan; Angelique and Dorian's romance grows. Back at Sir Malcolm's mansion, Vanessa, Ethan, Sir Malcolm, Sembene and Lyle carry on their evening as something evil lurks within, ready to strike.
Salem (10 PM, WGN)
Countess Marburg's Achilles' heel is revealed.