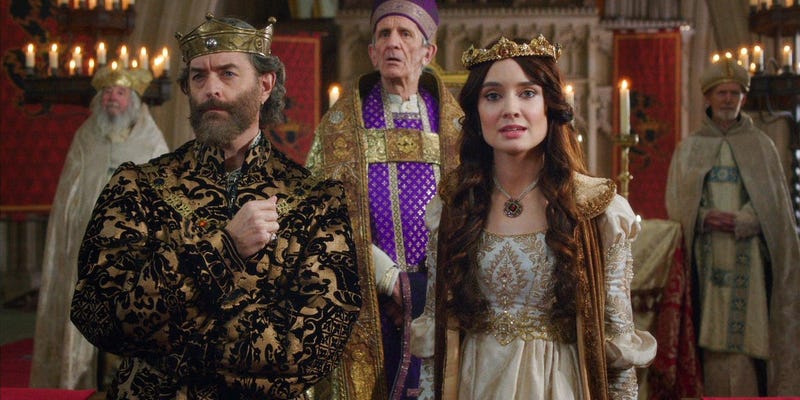 It's the week that we ring in the new year with endless TV marathons (while resolving only to watch the best TV in 2015). But we've also got a new show coming out this week, a musical about true love and revenge from a legendary Disney composer, and his lyricist collaborator on Tangled.
Today
Breaking Bad Marathon (All Day, AMC)
Walt's gradual transformation from milquetoast school teacher to brutal drug kingpin continues from the marathon that started yesterday.
Lost Girl Season 4 Marathon (8:30 AM, Syfy)
Missed out on Bo and the gang's adventures? Get caught up with today's succubus-filled marathon!
Tuesday
Star Trek: The Next Generation Marathon (8 AM, BBC America)
Today, BBC America takes us through a dozen episodes from Season Five, starting with "Unification (Part 1)."
The Walking Dead Marathon (9 AM, AMC)
Go back to the earliest days of the zombie apocalypse, and see those episodes from the days when Frank Darabont ran The Walking Dead's show. The pilot starts at 9 AM, and the world just gets bleaker from there. Season Two starts at 3:30 PM.
Wednesday
The Walking Dead Marathon Continues (All Day, AMC)
Season Three starts at 2 PM with "Seed." There's a break for paid programming (and then a few episodes repeated) from 6 AM-9 AM.
The Twilight Zone Marathon (8 AM, Syfy)
'Tis the season for Rod Serling narration! Ring in the new year with dozens of creepy and thought-provoking episodes of the classic anthology series.
Doctor Who Marathon (8 AM, BBC America)
We get a few episodes from Series Two, then the Christmas special "Voyage of the Damned." Then we get the first, eleventh, and twelfth episodes of Series Eight before diving into more Christmas specials.
Thursday
Even More Walking Dead (All Day, AMC)
By now, you may have convinced yourself that you're actually living in the apocalypse. Season Four starts at 2 PM with "30 Days Without an Accident."
More Twilight Zone, Too (6 AM, Syfy)
The Twilight Zone is also good for nursing that New Year's Day hangover.
Friday
You Guessed It: More Walking Dead (All Day, AMC)
By 2 PM, we're into the current season with "No Sanctuary." Damn Termites.
Z Nation Marathon (8 AM, Syfy)
In case you still want to watch zombies but want a break from The Walking Dead, catch up on Syfy's undead apocalypse while a plucky group of survivors try to protect the source of potential cure for the zombie pandemic.
Planet Earth Marathon (8 AM, BBC America)
Glory in the wonders of our planet with episode after episode of this beautifully shot documentary.
Saturday
We ease up on marathons today, but you can still catch five episodes from Season Three of Star Trek: The Next Generation (5 PM, BBC America), Pitch Black (3 PM, TNT) and The Chronicles of Riddick (7:30 PM, TNT), or have a bad movie day with Elektra (7 PM, Syfy), The Spirit (9 PM, Syfy), and Drive Angry (11 PM, Syfy).
Sunday
Galavant (8 PM, ABC)
Want more musicals on TV? Well, you're getting one with the singing, dancing fantasy show Galavant. Composer Alan Menken (The Little Mermaid, Aladdin, Beauty and the Beast) and lyricist Glenn Slater (The Little Mermaid stage show, Tangled) team up in this medieval comedy. Joshua Sasse plays the titular hero, who lost the love of his lie, Madalena (Mallory Jansen) to the evil King Richard (Timothy Omundson). Now Galavant is out for revenge, hoping to orchestrate his own happy ending.
We've heard it's a bit on the dumb side, but maybe the singing silliness will eventually win us over. The first two half-hour episodes air this week.
The Librarians (8 PM, TNT)
It's not exactly Once Upon a Time. "The Librarians travel to a town where fairy tales are coming to life — and attacking."
Resurrection (9 PM, ABC)
Just as a storm knocks out the power in Arcadia, Margaret and Jacob go missing. But while the Langstons and Bellamy try to find them, a new stranger arrives, one with ties to Bellamy.