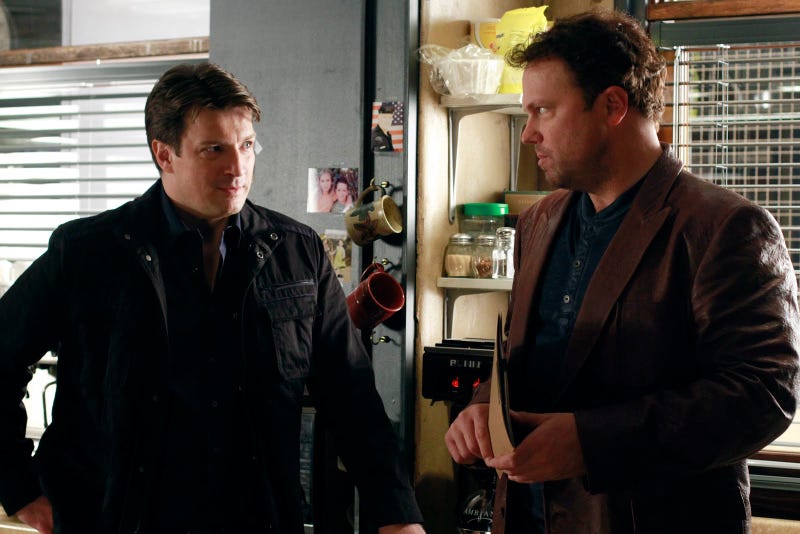 On this week's TV, Nathan Fillion reunites with his Firefly costar Adam Baldwin — and we have six clips from the episode! Eureka is back, and everything's changed once again! You can watch the science documentary that was nearly almost deemed too controversial for Americans. John "Q" de Lancie continues his mission to do hilariously arch cameos on every science fiction/fantasy show ever. And so much more.
Check out clips and details for all this week's television, below!
Today:
Adventure Time (7:30 PM, Cartoon Network):
In "Web Weirdos," here's what happens: "Finn and Jake get trapped in an enormous spider web and face a couple of grumpy, giant spiders." Check out a clip at left. Oh, and that's followed by a new Regular Show and a new Mad.
Eureka (9 PM, Syfy):
The final season of Syfy's "town of mad scientists" show premieres, and we're already grieving for the loss of Sheriff Carter and the rest. Here's what to expect:
As Eureka's thrilling fifth and final season kicks off, the town is reeling after the Astraeus and her crew mysteriously vanished just before their planned launch to Titan. When they finally crash land, Allison and the crewmembers are shocked to find themselves back in Eureka - and that they've been missing for four years. As the town copes with the shocking personal changes that have happened during their long absence, Sheriff Carter and Henry try to uncover the truth about the forces behind the crew's bizarre disappearance - with deadly results.
Check out a sneak peek above.
Lost Girl (10 PM, Syfy):
I know — it feels like this show just ended its first season, but now the second season is on. And we're back, with another episode title featuring a ludicrous "Fae" pun: "Something Wicked This Fae Comes." What does that even mean? Here's the skinny:
A nomadic Fae sideshow comes to town to take advantage of the chaos caused by both the bombing of the Light Fae headquarters and the declining physical condition of The Ash.
Castle (10 PM, ABC):
This cop show is worth singling out this time around, because this episode guest stars none other than the Hero of Canton himself, Adam Baldwin! Yes, Mal and Jayne are reunited at last. Here's what it's about:
With tensions rising between Castle and Beckett, Castle finds himself a new partner — Detective Ethan Slaughter (guest star Adam Baldwin, "Firefly"), a tough and colorful cop from the city's gang unit. But Castle gets more than he bargained for when Slaughter shows him a grittier side of police work that puts Castle in the line of fire like never before.
Here are an amazing six sneak peeks:

Also on TV tonight: a brand new House at 9 PM on Fox.
---
Tuesday:
Level Up (8 PM, Cartoon Network):
Here's what to expect:
When Dante's favorite childhood story leaks from his eBook into real life; Dante discovers that his hero from the story isn't all that he thought he was.
Also on TV tonight: A new Doomsday Preppers at 9 PM on Discovery.
---
Wednesday:
Voltron Force (8 PM, NickToons)
The first half of the two-part season finale. Here's what to expect, plus a clip:
The Kala/Wade Spider returns to take revenge on Maahox in a bad guy battle blowout! Now that Vince and Larmina are full-time members of Voltron Force what is going to happen with Daniel?
Nova (9 PM, PBS):
This time, the science show delves into "Why Ships Sink." PBS says:
Twenty million passengers embark on cruises each year, vacationing in deluxe "floating cities" that offer everything from swimming pools to shopping malls to ice skating rinks. And the ships just keep getting bigger: The average cruise ship has doubled in size in just the last ten years. Some engineers fear that these towering behemoths are dangerously unstable, and the recent tragedy of the Costa Concordia has raised new questions about their safety. Now, NOVA brings together marine engineering and safety experts to reconstruct the events that led up to famous cruise disasters, including the ill-fated Concordia, the Sea Diamond, and the Oceanos.
Also on TV tonight: a brand new South Park at 10 PM, and a brand new Ugly Americans at 10:30 PM on Comedy Central.
---
Thursday:
Community (8 PM, NBC):
Okay, seriously. We don't plan to include this as one of the featured shows every week in "What to Watch," because it's not strictly science fiction or fantasy — but then the show keeps having episode descriptions like this one:
ANNIE SPENDS SOME QUALITY TIME WITH ABED IN THE DREAMATORIUM - When the biology final exam is postponed, Jeff (Joel McHale) encourages everyone to join him for a three hour lunch, but Annie (Alison Brie) convinces Abed (Danny Pudi) to let her spend some time with him in the dreamatorium instead. What starts as an innocent simulation of "Inspector Spacetime" becomes a more serious examination of the study group members and Annie learns a little bit about what makes Abed tick.
The Vampire Diaries (8 PM, The CW):
Not one, but two of your favorite dudes are returning to this show in earnest. Cannot wait for the Tyler/Caroline/Klaus triangle. Here's the synopsis:
TYLER RETURNS TO MYSTIC FALLS - Elena (Nina Dobrev) and Damon (Ian Somerhalder) set off together to make sure Jeremy (Steven R. McQueen) is safe in Denver, and to see if his special abilities can help reveal the information they need about ancient vampire bloodlines. It doesn't take them long to learn that Jeremy has been hanging with the wrong people. Stefan (Paul Wesley) and Klaus (Joseph Morgan) both go to brutal extremes in their search for the missing weapon. Caroline (Candice Accola) is thrilled when Tyler (Michael Trevino) returns to town, but Tyler soon suspects that something has been going on between Caroline and Klaus. Matt (Zach Roerig) has his hands full trying to keep Rebecca (Claire Holt) busy organizing the school's upcoming 1920s Decade Dance.
The Secret Circle (9 PM, The CW):
This show is also back! And Q is guest starring!
THE OTHER BLACKWELL CHILD IS REVEALED - To protect themselves from the witch hunters, Jake (Chris Zylka), Cassie (Britt Robertson) and Faye (Phoebe Tonkin) seek out Jake's grandfather Royce, (guest star John de Lancie) to find his family's crystal and are confronted with disturbing theories about the events of sixteen years ago. Meanwhile, Diana (Shelley Hennig) tries to balance her pursuit of the Glaser crystal with Melissa (Jessica Parker Kennedy) and Adam (Thomas Dekker) with her romantic life with Grant (guest star Tim Phillipps), who demands to know what she's hiding. At the same time, Callum (guest star Michael Graziadei) attempts to re-insert himself into Melissa's life. Charles (Gale Harold) and Jane (guest star Ashley Crow) plot their move against Blackwell (guest star Joe Lando).
Touch (9 PM, FOX):
Just remember, we're all connected. By, like, quantums and stuff. Actually, you know what would be great? If this show had the same ending as the movie Knowing. Anyway, here's what's happening this week:
As Martin and Clea work together to uncover a shocking development involving Clea's mentally-challenged mother, Teller (guest star Danny Glover) steps into trouble when he visits Jake at the board-and-care facility. Meanwhile, a plane crash survivor seeks new purpose to his existence and a Chinese couple struggles to find balance between work and life.
Awake (10 PM, NBC):
This show keeps lurching between awesome character-focused episodes, and ones which try to follow multiple police investigations in one hour. Luckily, this time, it sounds like we're back to character development, in "Nightswimming":
I CAN EXPLAIN - While he and Bird (Steve Harris) work to reunite a couple and help them prepare for a new life within the witness protection program, Detective Britten (Michael Britten) realizes that he needs to take his own advice and begin preparing for his new life in Oregon with his wife, Hannah (Laura Allen). Meanwhile, anticipating the move to Oregon, Britten tries to introduce Detective Vega to his longtime confidential informant, Jake (Steve Lawrence), but finds that Jake doesn't like being passed down to another detective.
I really want to see what happens if he does move to Oregon.
Also on TV tonight: National Geographic has a special at 10 PM, Sex in the Stone Age.
---
Friday:
Supernatural (9 PM, The CW):
Here's what to expect from "Of Grave Importance":
AN OLD HUNTER FRIEND RECONNECTS WITH SAM AND DEAN - Sam (Jared Padalecki) and Dean (Jensen Ackles) get a call from Annie Hawkins (guest star Jamie Luner), an old hunter friend, asking for help on a case. When they arrive in town, they find out Annie has disappeared. They trace her last whereabouts to an old abandoned house that is haunted by a powerful ghost.
Check out a sneak peek, featuring a frustrated Bobby!
Fringe (9 PM, FOX):
Once again, the 19th episode of the season is weird and experimental — but instead of a musical or an animated episode, this time we're in the future. It's 2036, and the Observers have taken over the world — but there's a "game-changing battle" with the Fringe team. It looks genuinely fantastic, so fingers crossed!
Grimm (9 PM, NBC):
Looks like Nick could be getting into a bit of conflict with Pilates Wolf this time around. Here's the synopsis:
NICK MUST CHOOSE SIDES WHEN HIS DUTY AS A GRIMM CONFLICTS WITH HIS DUTY AS A DETECTIVE — BREE TURNER, SEBASTIAN ROCHE AND NEIL HOPKINS GUEST STAR - While investigating a string of murders, Nick (David Giuntoli) and Hank (Russell Hornsby) learn that their suspect's crime wave began overseas. When Nick discovers the suspect (guest star Neil Hopkins) is being harbored by none other than Monroe (Silas Weir Mitchell) and Rosalee (guest star Bree Turner), he realizes he's hunting the hunted, a freedom fighter trying desperately to escape the clutches of a creature bounty hunter (guest star Sebastian Roche).
Check out a sneak peek above.
Also on TV tonight: There's a new Nikita on The CW at 8 PM.
---
Saturday:
DC Nation (10 AM, Cartoon Network):
The fun actually begins at 9:30 AM, with a new Thundercats in which WilyKit and WilyKat get hunted while searching for food. Then, Green Lantern features Hal and Kilowog encountering warring alien races on a strange planet, while they're searching for food. (A theme is emerging.) And finally, on Young Justice, the team finds out the identity of the traitor in their midst and faces a new, dangerous enemy. No mention of searching for food, though. Oh, and there are demented cartoon shorts featuring DC Comics heroes, too.
The Legend of Korra (1 PM, Nickelodeon):
Apparently this show's episodes aren't appearing in a lot of TV listings, so we missed including it. (Thanks to collex for the heads up!) Here's what to expect in the third episode: "Korra, in an attempt to learn more about them, infiltrates the Equalist movement."
My Little Pony: Friendship is Magic (1 PM, The Hub):
It's the two-part season finale, "A Canterlot Wedding, Parts 1 & 2". Here are the synopses:
Twilight Sparkle is confused by her conflicting feelings when she finds out her brother, Shining Armor (Andrew Francis), is marrying Princess Celestia's niece, Cadance. ... Shining Armor and Princess Cadance are set to be married, but Twilight Sparkle has just discovered a dark secret about the bride to be.
Alien Tornado (Syfy, 9 PM):
Lawnmower Man star Jeff Fahey and Sliders' Kari Wuhrer star in this TV movie in which "aliens attack Earth, using deadly electrical tornadoes as weapons. A farmer, his brilliant high school daughter and a tornado blogger race against the clock to find a way to thwart the horrific invasion." Come on — aren't you a little intrigued? I want to watch just to find out what a "tornado blogger" does.
Also on TV today: A new Transformers Prime on The Hub at 8:30 PM.
---
Sunday:
Ultimate Spider-Man (11 AM, Disney XD):
Spidey gets a new "Iron Spider" suit from his idol, Tony Stark aka Iron Man. I feel like this show is running through the past decade's worth of storylines from the comics amazingly fast. And then at 11:30, there's a new Avengers: Earth's Mightiest Heroes, in which an envoy from the Kree Empire arrives to see if humanity is worthy to join the Empire — or be crushed by it.
Frozen Planet (8 PM, Discovery):
Many of us thought the final episode of this miniseries wouldn't air in the United States — because it deals explicitly with global climate change and how rising temperatures are affecting the Polar regions. And such talk tends to give people the vapors. Luckily, the Discovery Channel found a modicum of courage. Read a description of the episode here.
Once Upon a Time (8 PM, ABC):
Television MVP Jane Espenson writes another episode, "The Return," and here's what it's about:
Mr. Gold attempts to uncover the true identity of August, Emma confronts Regina about her involvement in Kathryn's disappearance, and David tries to apologize and reconcile with Mary Margaret. Meanwhile, in the fairytale land that was, Rumplestiltskin agrees to comply and do whatever it takes if his son can find a way for him to safely give up his powers and turn back into the loving man he used to be.
Game of Thrones (9 PM, HBO):
This is going to be an especially brutal episode (although you could pretty much say that every week.) Here's the synopsis:
Joffrey is far from happy with Robb's success on the field and takes it out on Sansa, while Tyrion and Bronn try to find ways to counter his cruelty. Cat tries to get Stannis and Renly to unite against the Lannisters while Dany finally finds a way out of the desert and arrives at the gates of a great city. Tyrion finds help among the queen's servants while Arya and Gendry find themselves in Harrenhal with Ser Gregor, the Mountain That Rides, in charge of the place. Davos, being an ex-smuggler, has to use his old skills to help Melisandre reach a special place.
Also on TV tonight: Fox is having a 25th Anniversary Special at 8 PM, featuring an X-Files reunion. And there's a brand new Mythbusters on Discovery at 9 PM.
Sources: Futon Critic, MSN TV, TV Guide, and various TV studio press releases.