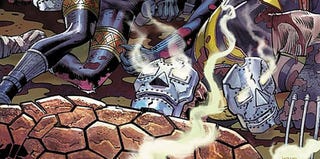 This week in comics: Space war! Zombies Vs. Robots! The origins of the entire DC Universe (Well, almost)! International politics with added superpowers! And your chance to pretend that you were into Kick-Ass before it became a movie!
Snowmaggeddon may be a thing of the slowly melting past, but Diamond Distributors are still feeling the pain; this week's shipping list is delayed because they're having trouble with their website. For the second week running, then, here're books that should be showing up at your local comic store tomorrow. Fingers crossed.
Actually, it's a pretty good week for new releases, with fans of the single issue format having the debuts of Marvel's Doomwar, Bluewater's Logan's Run and IDW's Zombies Vs. Robots Adventure to choose from; we're hopeful for a crossover between the first and last of these at some point, if only because we like the idea of Doctor Doom wading into a fullscale war between robots and zombies. If you think about it, Marvel could just publish their own version, called Marvel Zombies Vs. Doombots, although I'd want 10% of all profits for coming up with the idea (For those who may not know, Doomwar is a spin-off from the Black Panther series, wherein Doc Von Doom invades the Panther's homeland of Wakanda, only to meet the Panther, Fantastic Four and X-Men preparing to fight him off. The titles of Logan's Run and Zombies Vs. Robots Adventure are more self-explanatory, we think. As long as you know what Logan's Run is).
Collectionswise, there's an embarrassment of riches: Avatar are releasing a collection of Warren Ellis' post-pulp Ignition City series in both paperback and hardcover, which is highly recommended, as is DC Universe Origins, which collects Mark Waid and Scott Beatty's two-page histories of DC's heroes and villains from the pages of 52 and Countdown To Infinite Crisis, with art by many comics greats - Each strip is a masterclass in economy, so read and learn, wannabe comic writers. DC also has some continuity-related releases, with both Final Crisis Aftermath: Run (What happened to the man who killed the Martian Manhunter) and Kobra: Resurrection, which is essentially 144 pages of everything you need to know about what seems to be becoming DC's premiere terrorist organization, including the original little-seen Jack Kirby story. A curio, but definitely one worth checking out.
For those seeking a Halo-centric week, you can accompany today's release of Halo Legends with tomorrow's Halo: Helljumper, a collection of Marvel's recent mini-series, but collection of the week pretty much has to be Kick-Ass, Mark Millar and John Romita Jr.'s successful, over the top, "real world" superhero comic. Soon, as they say, to be a major motion picture, this is up there with Scott Pilgrim in terms of comics-to-movie buzz for the year, and like Millar's work or hate it, it's pretty much a must read for that reason alone... plus, the art is kind of wonderful.
If technology starts to work again, click through for the complete shipping list for the week, and then keep your fingers crossed that the Comic Shop Locator isn't dead, either. But even if it is, rest assured that your local store will have new comics for you nonetheless...