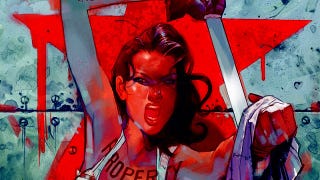 In this week's comics, a "bionic amnesiac" discovers his true purpose, and a freedom fighter mounts a daring rescue in a dystopian city. We get to see the Mirror Universe version of Star Trek's Captain Pike! Meet the woman who can see the future of anything she tastes! And there's a droolworthy hardcover collecting all of Brian Bolland's Judge Dredd work!
Here's everything you need to make Wednesday bright.
Top image: Orchid Volume 2.
---
First Issues
Dark Horse has Black Beetle Night Shift #0, collecting some superhero stories about Hitler's werewolf soldiers (just run with it) by Francesco Francavilla (Batman: The Black Mirror) that originally appeared in Dark Horse Presents. And a one-shot called Rotten Apple, collecting Sanford Greene's strips from other issues of Dark Horse Presents.
There's also the first issue of Number 13 by Robert Love and David Walker, which sounds like a slice of dystopian goodness:
The young bionic amnesiac known as Number 13 searches for answers and his creator, in a future world that's been brought to its knees by the vicious Monstrum Morbus plague. Weakened by his last explosive encounter, Number 13 is discovered by a group of curious, scavenging mutants who have banded together for survival. They dub him "Thirteen" and invite him to join their group-and one of them knows exactly what horrible purpose he was built for!
From IDW, there's a Star Trek 100 Page Spectacular, including some stories about some lesser-known Trek characters:
How do you deal with killing a legend? Find out in the story of Captain Harriman, the notorious commander of the Enterprise when Captain James T. Kirk was lost and presumed dead. Guest starring Dr. McCoy! Discover the devious inner workings of the Romulan military! Re-enter the Mirror Universe as Kirk's Doppelganger plots to overthrow his superior Captain Pike-And more!
This week's big DC Comics debut is JSA Liberty Files: The Whistling Skull by B. Clay Moore and Tony Harris — and yes, this means you have to decide whether Tony Harris' recent obnoxious remarks will make you avoid his generally decent art. In any case, there are Nazis and superheroes and crime — see a preview here. Vertigo has the first issue of a licensed Django Unchained comic — and let's hope he crosses over with John Constantine.
---
Trade Paperbacks and Hardcovers
The must buy of the week is probably Judge Dredd: The Complete Brian Bolland hardcover from IDW, which is just what it sounds like — every Dredd story by the best artist ever to draw the character. Says Comic Book Resources: "Within these hallowed covers the turmoil of John Wagner's Mega-City One rages, captured in such legendary tales as "Luna-1 War," "The Cursed Earth," The Day the Law Died!," "Judge Death," and many more." See a preview here. Also from IDW: volume three of the Teenage Mutant Ninja Turtles classic comics, and volume one of their True Blood tie-in comic.
Dark Horse has Orchid Vol. 2: Orchid goes to rescue a rebel leader from the fearsome Fortress Penuel before his execution, in the second volume of Tom Morello, Scott Hepburn and Dan Jackson's class-conscious fantasy adventure.
The main TPB from Image this week is Chew Volume 6, in which the main character is sidelined to introduce a whole slew of weird new characters:
While Tony Chu - the cibopathic federal agent with the ability to get psychic impressions from what he eats - clings to life in a hospital ICU, his twin sister Toni steps up to take center stage. Toni is cibovoyant, able to see the future of anything she eats, and, lately, she's seeing some pretty terrible things. Presenting a new storyline of the New York Times Bestselling, Harvey and multiple Eisner Award-winning series about cops, crooks, cooks, cannibals, and clairvoyants. Collects issues #26-30, plus the blockbuster spin-off one-shot that stole America's heart, Chew: Secret Agent Poyo.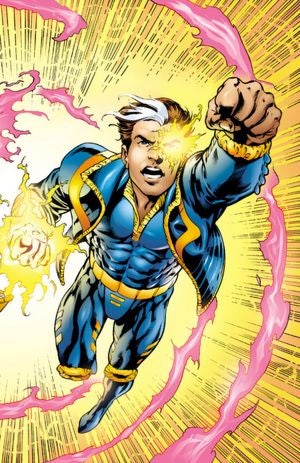 Marvel has a slew of trades and hardcovers, probably because they realize the holidays are coming up and many of us haven't gone gift shopping yet. Trade paperbacks include X-Man: Dance With the Devil, in case you feel weirdly nostalgic for the 90s. Plus Spider-Man: Trouble on the Horizon, Marvel Masterworks X-Men Vol. 5, X-Men Legacy: Back To School, Avengers Mythos, Invincible Iron Man Vol. 9: Demon, and volume 3 of Jonathan Hickman's FF. There's also the first trade paperback collection of Kelly Sue DeConnick's new Captain Marvel series, in which Carol Danvers finally gets the mantle she deserves. Also from Marvel: the video game tie-in Halo Fall Of Reach Invasion.
Hardcovers include Wolverine and the X-Men Volume 4, Incredible Hulk Vol. 2, Avengers By Brian Michael Bendis Volume 4, Invincible Iron Man Vol. 11: Future, and volume 6 of Jonathan Hickman's Fantastic Four.
From other publishers, there's also the first volume of Jeremy Bastian's Cursed Pirate Girl — according to Geeks of Doom:
Cursed Pirate Girl is searching for her father – the greatest pirate captain of the mythical Omerta Seas. On her quest, Cursed Pirate Girl must travel deep below the ocean's surface to a world inhabited by wonderful and menacing beasts.
See more here. And from Art of Fiction, the first collection of Dames of the Atomic Age. There's also volume 6 of Jennie Breeden's autobiographical comic The Devil's Panties.
As usual, here's the list of everything being released to comic stores tomorrow, and you can find your nearest comic retailer here.