Worried about the skip week of comic shipments? It's time to start stocking up on collections to tide you over, and this week's new releases are perfectly ready to help you do just that very thing.
For Whedonites, there's a simple choice of Single Issue Of The Week, and that's Angel: A Hole In The World #1, the first issue of a mini-series adapting the episode of the television series where Fred said goodbye and Illyria said hello. In a week weirdly quiet on the single issue front, it'd be a strong contender for everyone else as well.
Other single-issue choices would include DC's two Batman anthologies, Batman 80-Page Giant and Batman: Arkham Asylum Special, and IDW's Transformers: Bumblebee #1). But then there's also the first issue of Boom! Studios' Incorruptible, a companion to their Irredeemable series that asks what happens when a bad guy decides to go good (Clue: It's not as easy as you'd hope). Superhero thrills and spills will be yours.
Elsewhere, take out the credit card for some impressive trades and collections: Dark Horse Comics has a couple of coffee table art books (The Art of Emily The Strange and Drawing Down The Moon: The Art of Charles Vess). But there's also Star Wars: The Thrawn Trilogy, a hardcover collecting the comic versions of Timothy Zahn's three follow-ups to George Lucas' better cinematic threesome.
G/O Media may get a commission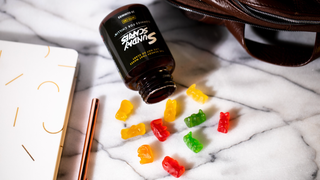 10mg CBD Gummies (22-Count)
But while we're mentioning art books, IDW also has a great collection of mid-century sci-fi in the oversized The Art of Steve Ditko hardcover.
In similar media mode, Dynamite's Battlestar Galactica: Cylon War fills in some backstory of the Sci-Fi Channel incarnation of the show, and DC's Fringe collection does the same for those wondering what the deal was with William Bell and Walter Bishop in their younger days.
Those looking for violent superheroics can find their fill with Marvel's output for the week, which includes paperback versions of Secret Warriors Vol. 1 and the demonic X-Men book X-Infernus, as well as a hardcover collection of Thunderbolts: Widowmaker. Tis the season, after all.
Just like last week, next week and every other week of the year - well, except the week after next, because of the holidays - the complete list of everything hitting stores tomorrow is right here for your perusal, and you can find your local comic store here. Just remember: Start planning your skip week activities right now, before it's too late.