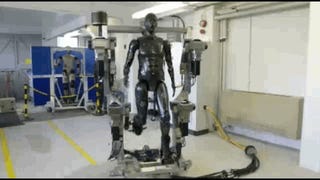 Introducing Porton Man, the UK Ministry of Defence's answer to the Pentagon's Petman. And like the U.S. version, this robot will be subjected to a series of unpleasant scenarios, including chemical and biological contamination. So you don't have to.
Indeed, the point of the £1.1 million (USD $1.8 million) robotic mannequin is to test light-weight protective suits and equipment for the UK armed forces. Porton Man can walk, march, run, sit, kneel and lift his arms to sight a weapon like an infantry soldier.
The bot, which happens to be constructed from advanced lightweight materials used in Formula One racing cars, is named after the home of the Defence Science and Technology Laboratory at Porton Down in Wiltshire. Its predecessor was a bulky 176 pound brute, but the F1 materials make this new robot far more portable and agile.
Porton Man has over a hundred sensors placed throughout its body to record data during the tests. This will allow the researchers to conduct real-time analysis on equipment such as biological and chemical suits in a realistic (but secure) environment.
[ UK Ministry of Defence via BBC ]