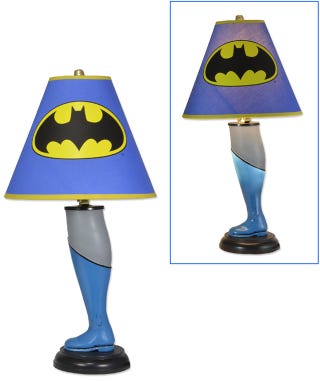 It's a Batman leg lamp. BATMAN LEG LAMP.
It's clearly inspired by the movie A Christmas Story and the sexy female leg lamp the father receives, although I don't think that makes it any less insane. You can pre-order it over at Entertainment Earth for a mere $35 — there's even an equally weird Superman version. But not a Wonder Woman version, which would have at least made a little thematic sense.
The worst part? How tiny Batman's foot is. Frankly, I think he'd have a much harder time instilling fear into Gotham City's criminals with little tiny baby feet.
[Via Neatorama]