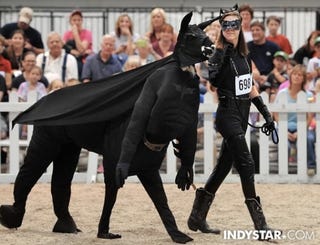 Anybody can do cosplay. Anybody. Including a llama.

io9 snagged this picture of "Bat-Llama" and Catwoman at the Indiana State Fair. Note that this tweet was from last year, and not this year. Nevertheless, Batman and Catwoman cosplay is timeless.

Like a lot of super heroes, Batman and Catwoman are urban phenomena. So it's nice to see cosplay take on a country western look in costume and in cosplayer.