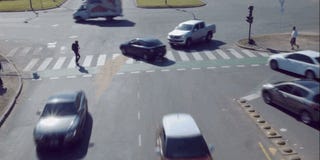 Oh, man, this is intense. But don't worry — the agonizing close-calls at this unreasonably busy intersection are not entirely real. It's the dizzying product of a special effects team at Black Sheep Films.
This is one of the finer examples of rotoscoping you're ever going to see; the normal intersection footage was edited in Adobe After Effects.
More from Black Sheep Films here.
H/t Digg!