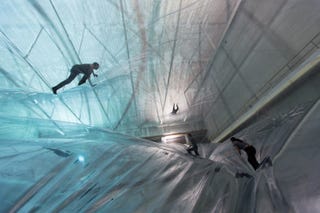 Argentinian artist Tomás Saraceno's latest work, On Space Time Foam, is now on display at HangarBicocca in Milan and it's really quite extraordinary. The installation consists of a large floating structure composed of three levels of clear film that can be accessed by the public. Visitors are encouraged to walk, roll, crawl, or lie down. And depending on where they're situated within the installation, patrons may even get the impression that they're floating on air.
Like his previous work, Saraceno is striving to detach his visitors from conventional geographical, physical, behavioral, and social constructs - what he sees as barriers. On Space Time Foam creates a new medium for interaction, requiring participants to get a collective sense of responsibility and accountability; movements within the display can have downstream effects for other participants.
Moreover, it's a "transparent society." Everybody can see everyone else.
Saraceno, who is inspired by 20th century utopian architecture, creates structures that can be inhabited by people, are self-sufficient, and have low environmental impact.
On Space Time Foam took months to plan and involved a multidisciplinary team of architects and engineers. It will be on display until February 3, 2013.
Via My Modern Met. All images via Alessandro Coco, HangarBicocca.