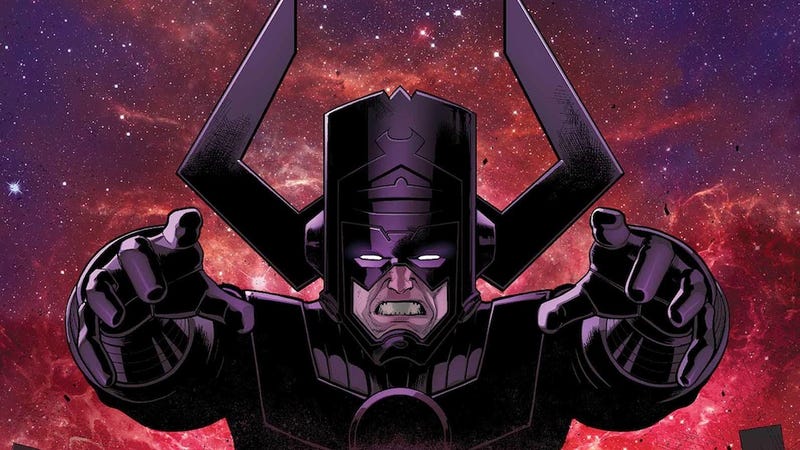 It's completely insane how many great comics are coming out his fall. I mean, almost no one could afford them all, and those people who had the cash to buy them would be hard pressed to read them all in a mere three months. Here's the greatest comics of September, October and November — budget your time and your money wisely!
---
SEPTEMBER
DC:
The bad guys have won in DC's Forever Evil event, and that means they rule the comics, too — DC will release dozens of individual comics focusing on the foes of Superman, Batman, Wonder Woman, Aquaman, and more. And that's not to mention Forever Evil #1 itself, in which the combined might of DC's baddest baddies "inherits the Earth." On the heroic side, the epic Batman: Black and White series returns with tales from Chip Kidd and other comics stars, while over at Vertigo, a new original Fables graphic novel, titled Fairest in All the Land, features a bevy of short stories as told by the evil queen's Magic Mirror on the Wall.
Superman and Lois Lane will celebrate their 75th anniversaries with their own special collections of their greatest stories in two large hardcovers titled A Celebration of 75 Years. And Neal Adams' completely insane Batman: Odyssey — in which Batman uses guns and appears to be trying to seduce the reader — is finally collected in a trade. I'm so excited!
Marvel:
The X-Men are no stranger to time travelers or even multiple versions of themselves, but they've never dealt with anything quite like X-Men: Battle of the Atom #1 — with the X-Men of the past already mysteriously hanging out in the present, the X-Men of the future arrives to demand the young X-Men go home, or else time and space will be destroyed! This 10-issue Bendis event begins here.
In other event news, the return of Thanos in Infinity will be going full swing, so you might want to check out the sidestories Infinity: Heist #1, in which Spymaster uses the cover of the intergalactic invasion to lead a team of villains to steal Tony Stark's secret, and Infinity: Hunt #1, where Ant-Man and She-Hulk bring the young heroes of the Marvel universe together to fight in the Contest of Champions, only to have it rudely interrupted by Thanos' minions. Additionally, Mighty Avengers starts back up with Luke Cage, Spider-Man, White Tiger, Power Man (yes, you heard right — Luke Cage and Power Man) and "a mysterious figure in an ill-fitting Spider-Man Halloween costume!"
A new epic begins in Thor: God of Thunder #13 as he fights his old foe Maleklth the Accursed, who is not coincidentally the villain of the upcoming Thor: The Dark World movie. And the Punisher makes his strangest decision ever when he surrenders to the police and admits to murdering a District Attorney in The Trial of Punisher #1.
Dark Horse:
While Dark Horse's biggest title will undoubtedly be the premiere of The Star Wars #1 — the comic based on George Lucas' first finished draft of the movie and Ralph McQuarrie's concept art — that shouldn't stop you from checking out the five fascinating new series the publisher is debuting this month.
First, there's Buzzkill #1, about a superhero who only has powers when he's drunk, which goes even worse than might suspect; Brain Boy #1, about a psychic secret service agent — he stops assassination attempts before the would-be killers even buy a gun; Steve Niles' Criminal Macabre: The Eyes of Frankenstein, in which an occult detective tries to help Frankenstein's monster get his eyes back; Kiss Me Satan, about New Orleans' werewolf mafia, the witch they want dead, and the demon she has for a bodyguard; and last but not least, Resident Alien: Suicide Blonde, about an alien undercover as doctor who gets caught up in a murder investigation. And if you prefer a comic you could actually bludgeon a man to death with, why not try The Colossal Conan, an omnibus of the first 50 issues of Kurt Busiek's Conan run?
IDW:
The Powerpuff Girls are back! IDW has formed a very profitable alliance with Cartoon Network and first on the list are Blossom, Bubbles and Buttercup, who will uncover Mojo Jojo's most fiendish secret. On the Adult Swim side of the equation, Black Dynamite will also return to comics, where he'll battle The Fiendish Dr. Wu.
The Martians are going to make a seriously big mistake when they stop by Mega-City One in Mars Attacks Judge Dredd #1, and the Danger Girl girls play an international game of hot potato with an actual bomb in The Chase #1. And finally, Transformers fans should be on the look-out for the Transformers IDW Collection Red Label Editions, which collect IDW's run on the Cybertronian warriors in a super limited edition.
Image:
The best title of the season has to go to Matt Fraction's Sex Criminals #1, about a couple who discover they have the power to stop time… but only when they're having sex. The question is this: How are they going to figure out how to rob a bank while they're doing it?
In slightly less filthy stories: Zero #1 is about a brutal assassin/spy who must track down a modified bio-terrorist before an army finds it; Rat Queens #1 stars "Hannah the Rockabilly Elven Mage, Violet the Hipster Dwarven Fighter, Dee the Atheist Human Cleric and Betty the Hippy Hobbit Thief" who are "maidens-for hire" in a dark fantasy comedy; Love Stories to Die For #1 features a tale of a monk that pits Vikings against vampires to save a baby and another tale of a woman on a doomed space station who must choose to save her husband or her lover; and a comic artist creates a best-selling superhero in Reality Check #1, but is dismayed to discover the hero has become real and stolen his story back unless the artist helps him find love.
Those who have been waiting for a trade to check out Jonathan Hickman's acclaimed apocalyptic fantasy East of West need wait no longer, as Vol. 1: The Promise arrives this month. The Walking Dead Vol. 1 makes its long-overdue Spanish language debut in the U.S., and TWD fans should be on the look-out for The Walking Dead 100 Project, featuring a bevy of artists reinterpreting TWD's first hundred comic covers in a special whose proceeds benefit The Hero Initiative!
Other:
• Over at Dynamite: The Defenders of the Earth — Flash Gordon, the Ohantom, Mandrake the Magician — team up when the world has nightmares and wakes up to discover the nightmares are real in Jeff Parker's Kings Watch #1. Marvel Zombies' Fred Van Lente turns his eye to another popular zombie craze in The Mocking Dead, which reveals the stupidity necessary to lead to a complete zombie apocalypse. And Chris Roberson pens a cold war spy tale where doppleganger technology exists, and no one on either side knows who's real in Codename: Action #1.
• Planet Hulk's Greg Pak takes the writing reigns for Valiant's Eternal Warrior:
Across ten millennia and a thousand battlefields, Gilad Anni-Padda has traversed the darkest, most mysterious corners of history. But the horror and bloodshed of constant warfare has finally taken its toll on the man myth calls the Eternal Warrior…and he has abdicated his duties as the Fist and the Steel of Earth for a quiet life of seclusion. But when a blood vendetta from the distant past suddenly reappears in the modern day, he must decide if he will return to the ways of war…for the child who betrayed him thousands of years ago...
• Boom Studios' debuts the first Sons of Anarchy comic, which is a new tale of a daughter of an old SAMMRO member who comes to the Sons for protection from the men who want her dead. There's also a new crime noir titled Hit, set in 1955 L.A.; and be on the lookout for the trade of the fantastic Adventure Time: Fionna and Cake collection, too.
• Archaia releases an omnibus of Charlton's classic Space: 1999 comics, while they team with Studio Tatsunoko to re-envision the classic manga and anime Cyborg 009 in America in a deluxe hardcover graphic novel.
• The Gods might be crazy, but they're definitely angry in Jonathan Hickman's God Is Dead #1, coming from Avatar Press:
In modern eras it's been fashionable to mock religious believers with taunts of scientific testimony and fact. But when the gods of old begin to reappear on earth and claim the domain of man for their own, the world is thrown into a state of utter anarchy. Now Horus walks the streets of Egypt, Zeus has taken over the Sistine Chapel, and Odin is coordinating the dissection of the earth among the returned deities. Mankind held sway over the world for thousands of years and their hubris over that time has made them powerful but when faced with the divine, can mortal weapons put an end to the second coming of the gods?
• The diabolical Mad Hatter returns in Zenescope's Grimm Fairy Tales: Wonderland: Through the Looking Glass #1.
---
OCTOBER
DC:
Neil Gaiman returns to his most famous creation with The Sandman: Overture, a new prologue that explains the events that led Dream to the point where he was weak enough to be captured in his original first issue. As if a new Sandman comic wasn't awesome enough, the phenomenal J.H. Williams III will be drawing the comic, so it may well be the most beautiful Sandman comic ever made, and that's saying something.
Superman and Wonder Woman will share the spotlight in the aptly titled Superman/Wonder Woman #1, which will focus on the heroes' romance and relationship as well as their fight against evil. And the most recently deceased Robin returns in Damian: Son of Batman #1, a series set in "a possible future that may never be," according to writer/artist Andy Kubert, in which Damian takes over his father's mantle.
Even without The Sandman, Vertigo has a busy month in October: Coffin Hill is about a Boston cop who returns home to discover the evil she accidentally awakened as a rebellious teen never left; Hinterkind is about the monsters humanity pushed to the edges striking back after a catastrophic blight killed off most of the population; and Witching Hour is a collection of nine supernatural tales of witches and witchery by some of comics' hottest talents. And equally weird, in its own way, is the collected Just Imagine... Stan Lee Creating the DC Universe, the old '90s series where Lee brought his own unique and completely goofy takes on DC's superheroes. And Fables fans won't want to miss the Fables: Encyclopedia Dramatica:
All the rich history that you've forgotten about your favorite fairytale characters is eloquently retold by noted scholar Jess Nevins (The League of Extraordinary Gentlemen Companion). Each entry will include the character¹s historical origin and Fables reinvention as well as first appearances and whimsical antidotes from creator Bill Willingham and regular series artist Mark Buckingham.
Dark Horse:
There are plenty of comics about teams who take on demons and angels and the like, but there's no one like Secular Humanist Occult Obliteration Taskforce — "defending humanity from angels, demons, and a bunch of other crap S.H.O.O.T. doesn't believe in." That's right — the only people who can destroy these creatures before they destroy are the atheists in Justin Aclin's irreverent scifi action-adventure S.H.O.O.T. First #1 [In full disclosure, Aclin is a friend of mine and also S.H.O.O.T. First is awesome].
Meanwhile, Dark Horse brings a new epilogue to Richard and Wendy Pini's Elfquest with The Final Quest one-shot, and there'll be a new Conan series — Conan and the People of the Black Circle — as well as a new Black Beetle series subtitled Necrologue, which finds the vigilante chasing down a brutal murderer.
And that's not even mentioning: Grindhouse: Doors Open at Midnight, a tale of gore, sex, and sexy bee ladies who lay their eggs inside men; The Occultist #1, which pits a strange hero against an evil witch doctor and the entire realm of the dead; and I'll let Shaolin Cowboy #1 speak for itself: Geof Darrow's slow-talkin', kung-fu-gripping hero proves once again, in this brand-new new series, that the only thing that can stop a bad guy with a gun is a good guy with a chainsaw!"
IDW:
Joe Hill's epic Locke & Key series will finally conclude this month in Locke & Key Alpha #2, which includes a cover that IDW won't reveal until the day its published. Meanwhile, the adventures of Samurai Jack will finally continue in a comic drawn by original Samurai Jack character designer Andy Suriano. IDW tells the origin of the new Khan — and those darned Eugenics Wars of the 1990s — in the 5-part Star Trek: Khan miniseries; Kevin Eastman's 1993 epic Zombie War will get the full-color treatment; legendary comic writer John Byrne returns to the world of Trio with the sequel Triple Helix #1, where the Changelings battle a monster not realizing its true identity; and Memory Collectors #1 is about "three jaded fetish models" who discover there are monsters in the world who feed on our memories, and decide to take them out.
Image:
You'll be able to purchase an entire comic saga in October, as Image release five issues of its new series Bushido on the month's five Wednesdays, about a low-class swordsman who serves his Shogun by tracking down ancient Japan's supernatural threats.
Kelly Sue Deconnick begins a new series about the daughter of death as she rides through the West in Pretty Deadly #1, a series that "marries the magical realism of Sandman with the western brutality of Preacher." And Ed Brubaker and Steve Epting, the team behind Marvel's recent Captain America epic, join forces again for Velvet #1, about the world's greatest spy who gets called back into duty after 20 years of desk duty. Rocket Girl #1 features a teenage cop from 2013 who travels back in time to 1986 and discovers her future should not exist; and Keiron Gillan's Three reveals the dark side of Ancient Sparta as three slaves go on the run from the deadliest warriors in Greece.
And in trade news, John Layman's hit Chew gets a Smorgasborg Editon, containing the first 20 issues of the award-winning series about an FDA agent who gets psychic impressions from anything he eats; and Greg Rucka's recent dystopian hit Lazarus gets its first trade, and is well worth checking out.
Marvel:
It's a busy month at Marvel, so let's just get to it. Cap must discover the secret of a mysteriously crashed space station before two countries go to war over it in Captain America: living Legend #1; Marvel Knights Spider-Man #1 pits the good ol' original Amazing Spidey against the Sinister 99 (well, at least 99 different non-affiliated bad guys); Thor, Sif, the Warriors Three and even Loki are on the hunt in Thor: Crown of Fools #1; and most bizarrely, the All-New X-Men are accosted by Doctor Octopus in their Special #1— and The Superior Spider-Man would really like to know how the hell Doc Ock is even alive. The mutant thief Fantomex gets his own Max series full of secret agents, sexy ladies and sexier gadgets.
Finally, Warren Ellis' much-anticipated stand-alone Avengers: Wartime graphic novel arrives this month:
An abomination, long thought buried, has resurfaced in a war-torn land- but now it wears an American flag. Faced with another nightmare reborn, Captain America will not stand for yet more death at the hands of a ghost from his past. Haunted by his greatest shame, Thor must renew the hunt for a familiar beast. Side by side with the great Super Heroes the world has seen, united to end the threats no one of them could face alone, the Avengers will stare down the greatest threat the team has ever faced. But is even their combined might enough to overcome a force of pure evil?

Endless Wartime is set within regular continuity, but it's interesting seeing Marvel get into the straight-to-graphic novel game. This could be the start of something big, and I don't mean for the Avengers.
Other:
• Amazon will supposedly debut the first issue of their comic based on Hugh Howey's dystopian hit Wool in October, but they've been pretty quiet since announcing their comics imprint Jet City, so I suppose it's subject to change. Still, if it arrives, it'll be great to actually see inside the Silos of Wool.
• The Goat finally makes his triumphant return in issue #4 Valiant's relaunch of Quantum and Woody; while Archer and Armstrong find themselves on opposite sides of a secret cabal's civil war in a new story beginning in Archer & Armstrong #14.
• Having spent decades in the East healing himself, the legendary Shadow returns to modern-day New York City in The Shadow Now #1, courtesy of writer Tim Bradstreet, leading off Dynamite's October titles. Comic Book Men's Walt Flanagan writes Cryptozooic Man, about a man who encounters aliens, Bigfoot, and other creatures on his search for his missing daughter; and the normally adult-oriented Garth Ennis has an all-ages tale titled Erff, about three primordial creatures who venture onto land for the very first time.
• Boom Studios' debuts Imagine Agents #1, about a team that keeps rogue imaginary friends in line. But a six-year-old and his bear-pal have their own plans…
---
NOVEMBER
Marvel:
It's Cataclysm time! The regular 616-universe Galactus has 50th anniversary into the other titles include Ultimate Spider-Man, Ultimate X-Men and the Ultimate Ultimates. Seriously, all signs point to the end of days, so this might be these heroes' final adventure. Back in the 616, the Infinity event closes with issue #6, which I doubt will end with the Avengers teaching Thanos the value of friendship. In somewhat less cosmic events, Painkiller Jane returns in Price of Freedom #1, who's been hired to protect a Saudi Arabian princess as she visits New York City — and who turns out a great many people want dead.
The X-Men are having an extremely busy month: Wolverine learns that Nightcrawler may not be dead — well, at least not completely dead — so he leads a team to find and rescue the mutant in Amazing X-Men #1. Brahm Revel brings the X-Men to a murder mystery as Wolverine, Rogue and Kitty Pryde try to save young mutants from a sadistic serial killer in a new Marvel Knights: X-Men tale. And Chris Claremont returns to tell a lost tale of Cyclops, Wolverine, Nightcrawler, Colossus, Kitty Pryde and Rogue in the X-Men Gold comic, celebrating the X-Men's 50th anniversary, along with countless stars of X-Men past, from Stan Lee to the present.
I can't imagine how many people will be enjoying the Agents of S.H.I.E.L.D. TV series by November — I'm assuming it'll be a lot — you might want to think about the Agents of S.H.I.E.L.D. collection, which includes some of the Marvel's least-secret secret service greatest missions, starring Hawkeye, Black Widow, and of course, Agent Coulson.
Image:
You though Image had some cool-sounding new comics in September and October? It's nothing compared to November. Girls' Jonathan Luna returns to comics with Alex + Ada #1, about a young man in the near future who receives a realistically beautiful android he doesn't want; a young serial killer tries to avoid her urges by hosting a show on her college radio station, but she awakens something ugly in her fellow students in A Voice in the Dark #1. Black Science #1 features a scientist who accidentally transports himself outside of reality, and must cross thousands of dark, alien worlds to return home; Lewis and Clarks explore the horrifying, monster-filled American wilderness in Manifest Destiny #1; J. Michael Straczynski examines a world full of corporate-sponsored hero teams but no villains, and the regular detective who has to investigate a murder that could have only been perpetrated by another hero in Protectors Inc. #1; and Umbral #1 is about a fantasy world in which a young thief accidentally sees the murder of the Royal family. Last but certainly not least is Strangeways #1, which I'll let Image describe:
"When shock-induced visions drive a detective specializing in the paranormal to a small town in South Dakota, he finds himself up against flesh-hungry bog-men, his ex-girlfriend, their mutual ex-girlfriend (did we mention she's a werewolf?), and a demon that's stolen his arsenal of psychedelics. Then things start to get weird."
And if you've heard people talk about it — or at least make countless bits of word play based in the title — don't forgot to check out the first NSFW collection of Joe Casey's Sex, in which a billionaire playboy and an ex-superhero returns to his city and gets caught up in his past, his demons and his repression.
Dark Horse:
Holy crap, The Goon is finally back! The long-awaited issue #44 comes out this month, and according to Dark Horse:
"¡LAGARTO HOMBRE REGRESA! ¡Ah, Jesús dulce! ¡El horror de ese bocadillo de jamón Lagarto Hombre ha regresado! ¡El diablo! es el diablo! ¡El señor salvo nosotros! ¡Lagarto Hombre comerá a sus bebés en la noche! ¡Vuela como gatos malos en la cara!* *We apologize to our Spanish-language readers; the process that created the Lagarto Hombre gave him terrible grammar."
Meanwhile, Kelly Sue Deconnick relaunches DH's sexy supernatural superheroine Ghost with a new series that will reveal her mysterious origins; Clown Fatale #1 is about a group of sexy female clowns who get mistaken for assassins and are forced to go on the run; Never Ending #1, about an ageless superhero who turns to his greatest foe to help die; Sledgehammer '44: Lightning War #1 sees Mike Mignola's WWII hero take on the Black Flame; and then there's a new Star Wars comic set in the Dawn of the Jedi era, titled Force War, just for kicks.
IDW:
Sam Keith's The Maxx — a massive purple superhero in the fantasy realm called the Outback who just so happens to be a homeless man in this reality — returns to comic shelves in an all-new edition, rescanned from Keith's original art and with all new colors. Joe Hill doesn't waste any time when he brings the world of his hit NOS4A2 to comics, as Wraith: Welcome to Christmasland returns to the nightmarish holiday world ruled by a madman. The casts of More Than Meets the Eye and Robots in Disguise team up to battle Shockwave's most diabolical plan — to rebuild Cybertron while destroying the Autobots and Decepticons alike in Transformers: Dark Cybertron #1. And kids can check out the historical adventures of Mr. Peabody and Sherman or the alien adventures of Ben 10 with their new comic debuts.
DC:
Before Harley Quinn finally gets her New #52 series, by the fantastic Power Girl team of Amanda Conner and Jimmy Palmiotti, there'll be an issue #0 where DC's talents take on various tales of the Clown Princess of Crime. Meanwhile, Zero Hour expands into all the Bat-titles beginning with Batman #25, as the newly christened Batman hunts for the Riddler after he plunges Gotham into darkness in a new arc titled "Dark City." And on the lighter Bat-side, the new Scooby Doo Team-Up series features everyone's favorite crime-solving dog teaming up with Batman and Robin to battle Man-Bat.
Warren Ellis' acclaimed Planetary gets its first massive omnibus, containing the first 27 issues and three crossover comics, and classic comic lovers should watch out for Creature Commados, a collection of the best Weird War Tales comics where Frankenstein led a team of monsters against the Nazis during World War II.
Other:
• 30 Days of Night's Steve Niles relaunches Ash and the Army of Darkness, and Ash's troubles are far from over:
The battle has been fought and won. Ash battled and defeated the Deadite image of himself and saved the world. Now all he wants to do is get home and have a normal life. Too bad he messed up the Book of the Dead incantation. New series. New start. Will Ash ever escape the land of the Deadites? Will he ever find his girl? Will he ever remember the last part of the incantation? Now an army of unbelievable horrors rules the land and only Ash can annoy them.

• Amazon's Jet city imprint will likely sell a lot of copies of the rerelease of the 2003 comic based on George R.R. Martin's The Hedge Knight, a short story set in the world of Games of Thrones, but a hundred years before the first book began. Since few people have read the story and even fewer have seen the original comic, it's probably for the best this will be available for Kindle, because that way it can't sell out.
• Dynamic Forces has an interesting idea — give Red Sonja to the ladies. Acclaimed female writers and artists led by Gail Simone will helm Legend of Red Sonja, a five-issue miniseries that's long overdue.
• Valiant debuts its own superteam in Unity #1, in which "the world's most dangerous man, Toyo Harada … will unite the most lethal, most volatile, most unforgiving team the world has ever known" — all to kill X-O Manoward.
• Orphans have been trained to be our best superspies, and now wait as adults to be called into action in Boom Studios' Protocol #1.
• Archaia: Indie fans will not want to miss R.J. Ryan and David Marquez' The Joyners in 3D, a bleak but fascinating tale of a family torn apart by its own secrets. And in 3D! And in a slightly lighter vein, young Aurora Grimeon encounters weird ghosts, weirder neighbors and practicioner of "Hoodoo" in Will o' the Wisp.
• Aspen stages its final relaunch with the fantasy epic Soulfire #1.
• The heroine of 1,001 Arabian Nights becomes an unlikely modern superhero in Shahrazad #1 from Big Dog Ink.