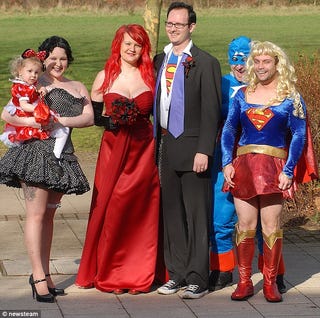 A Worcester couple donned their best cosplay threads for a "cartoon wedding." When the bride is walking down the aisle to the Star Wars theme, you know you're in for an excellent nuptials!
The Daily Mail was at the gloriously costumed wedding of Rob Taverner, 32 and Nyssa Pratten. Here are a few of the highlights:
The Groom dressed up as Clark Kent, the bride as Jessica Rabbit.

And the two best men dressed as Captain America and Supergirl at the ceremony.

The bride walked down the aisle to the Star Wars theme, and at the end of the ceremony the couple left to the Looney Tunes' exit music.

Sponge Bob Square Pants and Betty Boop were just a few of their cartoon guests.
Super cute, all our love to the happy couple! For more information and additional images head over to The Daily Mail.

Images by newsteam.