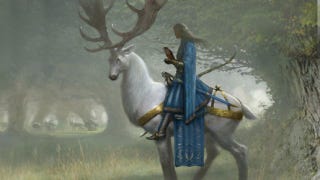 Behold the majesty of Middle-Earth! Discover Radagast's home! Sneak a glance at the face of the Wargs! Artists John Howe and Alan Lee have shared their unique look at the world of The Hobbit with this collection of select panels of gorgeous concept art in the new issue of ImagineFX, and here's a sneak peek at what they got!
All images (and more) from ImagineFX.
Wargs!
Claimed to be an entry to some "dwarven realm." Could this be the front door to the Lonely Mountain?