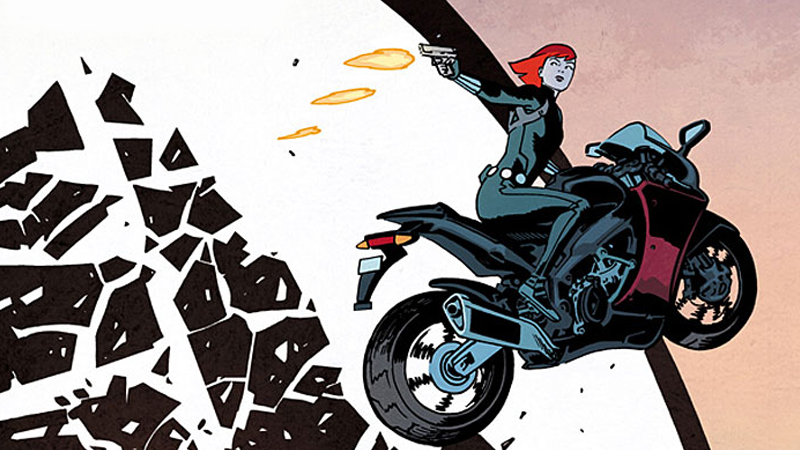 Oh my god. We've known for a while that Black Widow would be getting her own series in Marvel's upcoming "All-New, All-Different" reboot—but we didn't know who, and now we do, it's safe to say Natasha is in good hands: Mark Waid and Chris Samnee, the team behind Marvel's outstanding Daredevil comic.
Announced by Entertainment Weekly, the series, which also brings Daredevil colorist and letterer Matt Wilson and Joe Caramagna into the fold, is a spiritual successor to Black Widow's current comic from Phil Noto and Nathan Edmondson—not a direct continuation of the story, but a series that's born out of that story, in a similar manner to how Waid picked up Daredevil when he began in 2011. The series will follow Natasha on a more "back to basics" level—without the support of SHIELD or high-tech gadgetry, and relying on herself and her skills to kick butt the old-fashioned way: spy style!
Of course, it's fantastic that Black Widow is getting another solo series—her boost from being pretty much the most prominent female hero in Marvel's movies has lead to her getting some fantastic series in the last few years. But the real reason to be excited about this is Waid and Samnee together again as the creative team for her.
Waid and Samnee's run on Daredevil, with contributions from Paolo Rivera, isn't just some of the most fantastic work on Matt Murdock as a character in recent years, it's basically one of the best series Marvel have had in the last few years. Waid and Samnee totally nailed what they wanted to do with Daredevil as a character and aesthetically, and gave a take on Daredevil that was nothing like we'd seen for years. Let's hope they can work similarly spectacular magic on Black Widow, when it begins in 2016.
[Via Entertainment Weekly]