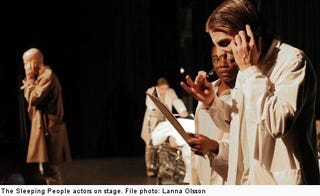 You can't buy The Sleeping People by Fredrik Reinfeldt in a bookstore. The dystopian science fiction novel by Sweden's current prime minister isn't in libraries. But Reinfeldt's novel about the welfare state gone amuck is available on the Internet, and now it's been turned into a stage play that sells out every show.
In Reinfeldt's Randian novel, written 20 years ago when he was a Member of Parliament for the Moderate Party, it's the future — the year 2013 — and the Social Democrats have been running Sweden for 20 years. And Sweden is divided into two groups: the Fools, who work themselves to exhaustion to pay for the welfare state, and the Sleeping Brains, who sit at home watching television and living off their welfare checks.
Producer Almerén Persson tells The Local that they wanted to turn Reinfeldt's long-buried novel into a stage play, because it reveals more about Reinfeldt's political views than the Prime Minister's carefully calculated recent statements:
The dramatist Johanna Emanuellsson felt it was incredibly important to make this work accessible to the Swedish public ahead of next year's elections. We're giving this text an honest to god chance. It's not often that rightwing politics find its way onto the stage...

It's easy to assume we are on the other side of the political divide, but this isn't placard theatre, we are not trying to make the text ironic... I perceive the text to be less censured than (Reinfeldt is today). They are not words from a man who has a seasoned press secretary by his side night and day, it doesn't show the same caution.
The real question is, is it better than the recent Atlas Shrugged movies? [The Local]