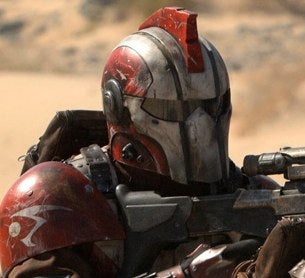 Spend all week building your own pirate army? Don't worry we've collected the best of the best just for you this week, including "Twihards," Sarah Connor 101 and Dollhouse: is it or isn't it canceled?
First Look at the Teaser Trailer for Sandy Collora's "Hunter Prey"
Sandy Collora, the fanfilm auteur behind Batman Dead End, has just finished an original feature film. Called Hunter Prey, it's like Predator crossed with ConAir.

Twilight Fans Stab, Choke, And Beat Haters Into Submission
This is what happens when you create a book/movie about teens sexually suppressing themselves whilst whimpering and dry-humping their brains out. All that pent-up emotion has turned fans into violent, horny Twihards.
No Means No, Except In The Dollhouse
If Dollhouse's dehumanizing premise made you uncomfortable before, then last Friday's squicktastic episode probably took that discomfort, and ratcheted it up to psychic agony.
Bai Ling Wrote Her Own Crank 2 Dialogue
Crank 2's script may have been the "most offensive" Jason Statham ever read - but that was before costar Bai Ling rewrote it. Bai told us about catfights, upskirts and the craziest movie ever. Spoilers!
Eminem's New Star Trek Music Video Takes A Bat'leth To Planet Womyn
It's been ages since Eminem decided to insult us all with a sexist, homophobic, celebrity skewering, Star Trek-referencing rap video. Em and Dre put their best Trekker faces forward, and beam up to planet lesbian.

Tadpole Alien Escapes With Robot David Cross, In Terra Clip
Post-apocalyptic CG movieThe Battle For Terra pits tadpole aliens against humans, as both fight for the survival of their respective species. Check out our exclusive clip.

Blade Runner's Original Text Comes To Comics
Boom! Studios may just have hit the sci-fi comic motherlode; they're adapting Philip K. Dick's Do Androids Dream Of Electric Sheep? into a groundbreaking new series mixing comic art with the original text, and more.