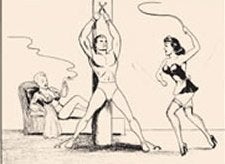 Caught up reenacting your Superman bondage fetish? Don't worry, we got the best of the week right here. Highlights include evil twins, a NSFW interview with Forbidden Science's creator, and Terminator details.
Man Of Steel, Woman Of Bondage? [NSFW]
It's not looking good for the Man of Steel. Just days after we revealed his racist past comes news of a book that unveils his sordid fetish life, as chronicled by his creator. NSFW pics.

Terminator Ending "Might Piss Off A Lot Of People"
Last night we were treated to about 15 minutes of Terminator Salvation footage. Spoilery details of what's going on below, plus McG's confession that the ending might piss people off.
The Most Ridiculous Evil Twins In The Multiverse
Being evil is supposed to make you smarter, but it doesn't always work out that way. In science fiction, evil twins are often more idiotic than their good counterparts. Just check out our list!

Dead Snow Review, Plus Zombie Nazi Endorsements
The US premiere of Dead Snow (Død Snø) is right around the corner at Sundance, but it's already premiered in Norway, and our io9 correspondent Bjørn was there.

Finally: Is Batman RIP Or Not?
The conclusion to Batman RIP has finally arrived. Two months after the end of the story, and in a different comic altogether, yes, but the final fate of Batman is now (kinda) known. Spoilers, obviously.

Paul McGuigan Talks Push — And Deathlok
Paul McGuigan is best known for directing quirky thrillers like Lucky Number Slevin. He told us about branching out with the paranormal action-adventure film Push — and his involvement with Marvel's abortive Deathlok movie. Spoilers
Is This How The Spider-Man Movies Will Redeem Themselves?
With the news that Spider-Man 4 could feature Morbius, The Living Vampire, we think we've figured out the plot for the next movie, and it's gotten us excited at the goofy possibilities. Spoilers ahead
Forbidden Science Creator Tells All About Clones and Sex Droids [NSFW]
It was Doug Brode's last day working on design for props and weapons on JJ Abrams' Star Trek film. And then he got the call: Cinemax had just greenlit his series, Forbidden Science.

Monsters Versus Aliens Versus Stephen Colbert
Monsters Versus Aliens isn't just the most important movie of our time — it's also the future of movie-making. Dreamworks' Jeffrey Katzenberg showed us about 20 minutes of MVA, and talked 3-D breakthroughs. Spoiler panic!
The Terminator Clip That Shreds The Space-Time Continuum
You may have noticed from the trailers for Terminator: The Sarah Connor Chronicles that a certain person is coming back, in the mother of all paradoxes. Now a new clip shows him in action.