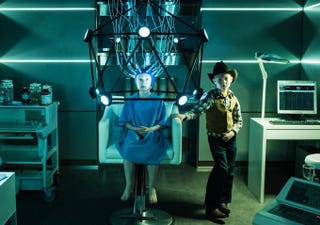 Trailer Frenzy
A special place to find the newest trailers for movies and TV shows you're craving.
From the director of Amelie (Jean-Pierre Jeunet) comes a whimsical adaptation of Reif Larson's novel The Selected Works of T.S. Spivet, a story about a little inventor and his journey to Washington D.C. to collect an award. The marriage of wonder and charm is just perfect in both of these trailers; fingers crossed for giddy skylines and effortlessly charming characters.
We've got two trailers for the movie, both fat with Big Fish and Amelie-style awe.
A 12-year-old cartographer secretly leaves his family's ranch in Montana where he lives with his cowboy father and scientist mother and travels across the country on board a freight train to receive an award at the Smithsonian Institute.
The Selected Works of T.S. Spivet will be released in France in October, but it doesn't yet have a U.S. release date.
[Via Twitch]