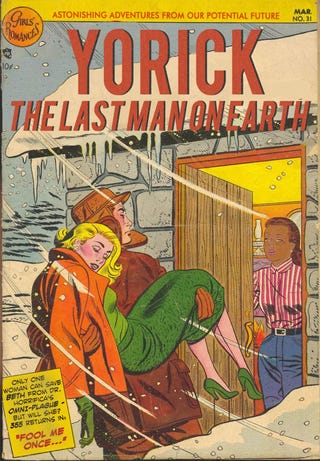 Everybody thought comic book creator and Lost scribe Brian K. Vaughan was so creative when he came up with the premise for post-apocalyptic comic book Y the Last Man. In it, a mysterious force wipes out the entire male population of all species except for the main character, Yorick, and his male monkey. But we didn't realize Vaughan had copied the premise from a fifty-year-old romance comic! Behold the just-revealed inpsiration for Y, brought to light thanks to the researching powers of the dude behind comics blog MightyGodKing.
Since we are future reporters and all, we loved this other Silver Age inspiration for a present-day comic featuring a reporter named Spider.
Of course, by "inspiration" we mean retroactively-Photoshopped creation. Is that a retpho? W00t!
Rampant Plagiarism [Mightygodking] (Thanks, Douglas!)