We scoffed at Syfy's Americanized Being Human show, thinking they'd never find an American with as much sex appeal and charm as the original vampire actor, Aidan Turner. We were wrong.
You may know him as Smallville's Doomsday, The Force Unleashed's Secret Apprentice or merely as Crashdown from Battlestar Galactic. But from now on, if the material translates and the chemistry works, you'll know Sam Witwer as the new vampire tenant of a supernatural apartment. Sharing the space with a ghost and a werewolf.
Entertainment Weekly is reporting that Witwer is officially attached to the project. Meaghan Rath will also being playing the part of the female roommate, the ghost Molly...
And Sam Huntington, whom you may remember as Jimmy Olsen in Superman Returns, could be the werewolf, Josh.
G/O Media may get a commission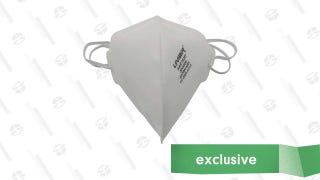 NIOSH CDC-Certified N95 Masks (10-Pack)
We're pretty excited about Witwer and Huntington — now let's see if they can capture the great chemistry between the three original actors in the BBC series.